Teenager Tweets Disgusting Photo From McDonald's Ice Cream Machine
Well, leave it to a teenager from Louisiana to start exposing McDonald's.
Former eighteen year old McDonald's worker Nick, who goes buy @phuckyyounick on Twitter, has shared pictures of a moldy ice cream maker from McDonald's.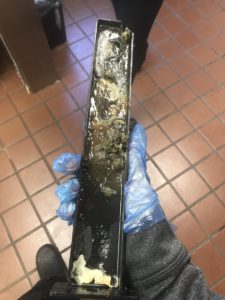 He captioned the photo with, "This came out of McDonald's ice cream machine in case y'all were wondering…"
Nick had worked at a Louisiana McDonald's outlet for five months, but according to BuzzFeed he was fired after posting the picture.
McDonald's said in a statement that the equipment seen in Nick's photo does not come into contact with any food.
"We are committed to running great restaurants that provide our customers with high quality food, service and a clean environment," a spokesperson reassured.
"This is a part of our soft serve equipment that does not come into contact with any food and is required to undergo
regular and timely cleaning."
Disclaimer: We have no position in McDonald's Corporation (NYSE: MCD) and have not been compensated for this article.