Winners (WNRS) Hopes to Build on Recent Progress with Expansion of Services into the Multi-Billion $ Horse Racing Industry
LAS VEGAS, NV, March 16, 2023 – McapMediaWire – Winners, Inc. (OTC: WNRS) through its operating subsidiaries, provides sports betting enthusiasts with high-quality content, analysis, research, data, and guidance for popular betting sports, announced today that it has agreed to terms with a leading entity in the Horse Racing Industry for Winners' expansion of its handicapping services into this Multi-Billion Dollar industry.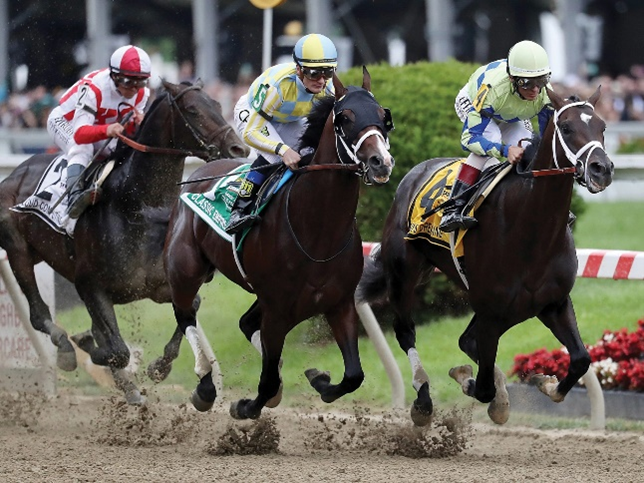 Wayne Allyn Root, CEO of Winners Inc., stated, "As I have mentioned before, we're aggressively executing our strategy for growth, and this exciting development in negotiations holds great promise for our company. If and when completed, this transaction will represent a significant milestone among the many that are planned ahead and is expected to add another growing revenue stream to our financial picture. I look forward to bringing out further updates  on our progress in the coming weeks."
The Global Horse Racing Market size was valued at $ 300 billion in 2019 and is expected to grow significantly over the next decade. The analysts have been monitoring the horse and sports betting market and it is poised to grow by $ 139.52 billion during 2020-2024 progressing at a CAGR of 9% during the forecast period.
With millions of spectators worldwide, the horse racing industry has maintained its popularity for centuries. Now a multi-billion-dollar market, this sporting event shows no signs of slowing down. Horse racing is one of the most widely attended spectator sports in the USA and the second-most popular spectator sport in the UK, coming only behind football. Approximately six million people attend the races each year in Britain alone. Further afield, horse racing is very popular in France, Australia, the USA, Canada, Hong Kong, and Malaysia, while in Japan, fans are known to sleep in the queue for big events. Horse racing is one of the most popular spectators' sports attracting millions of people each year.
Some of the key points from the Horse Racing Industry include:
Total wagering handle topped $12.2 billion in 2021, an 11.86% increase over 2020
U.S. purses exceeded $1.1 billion, a 35.77% increase over the previous year
U.S. race days and total races jumped by more than 20% over last year
The average field size contracted from 7.94 to 7.37, a 7.20% decrease
The average purses per race day increased by over 10% to just shy of $290,000
VegasWinners is a licensed sports gambling affiliate that intends to drive traffic to gaming operators for commission. VegasWinners is currently licensed in several states and has made application in additional states. It is the intent of VegasWinners to get licensed in all states that allow online sports gambling. To date online sports gambling has been legalized in; Arizona, Colorado, Connecticut, Illinois, Indiana, Iowa, Kansas, Louisiana, Maryland, Massachusetts, Michigan, Mississippi, Nevada, New Jersey, New York, Ohio, Pennsylvania, Tennessee, Virginia, Washington DC, West Virginia, Wyoming & Ontario.
The global sports betting market accounted for USD 83.65 billion in 2022 and is expected to expand at a compound annual growth rate (CAGR) of 10.3% from 2023 to 2030 as reported by Grand View Research. The demand for sports betting is driven by factors such as the major shift in the regulatory landscape of the global gambling sector, the penetration of connected devices, and the developing digital infrastructure. The global sports sector has been greatly influenced by the COVID-19 pandemic due to restrictions on sporting activities across the globe. However, online sports betting gained popularity during the pandemic due to an upsurge in eSports and similar forms of betting. In addition, increased usage of smartphones has led to the wide availability and accessibility of sports betting, consequently propelling the global market. For instance, according to a recent survey from Uplatform, a sports betting and casino operating platform, mobile devices accounted for about 70% of online betting revenue in 2020.
ABOUT WINNERS, INC.
Winners, Inc. (OTC: WNRS) through its subsidiaries is engaged in the business of sports gambling research, data, advice, analysis and predictions utilizing all available media, advertising formats and its database of users. Revenues are expected to accelerate due to the explosion of sports handicapping arising from the 2018 Supreme Court decision that States have the right to approve sports gambling and the resulting State by State rapid approval of sports gambling. Its Subsidiaries: VegasWinners is a registered sports gambling affiliate that intends to drive traffic to gaming operators for commission. VegasWinners is currently registered in West Virginia, Indiana, Colorado, New Jersey, Tennessee, Pennsylvania and able to operate in New York, Nevada, Mississippi, Wyoming, Illinois, Iowa, Louisiana and has made application in several additional states; The LongShot Report is a rapidly growing internet/online subscription-based company that gives advice on sports picks for fantasy and sports betting including but not limited to football, basketball, baseball, hockey and golf with an online platform and mobile app available for download at the App Store and Play Store. For more information, please visit the Websites VegasWinners and The LongShot Report and on Social Media at Twitter.
SAFE HARBOR STATEMENT
This press release contains forward-looking statements that can be identified by terminology such as "believes," "expects," "potential," "plans," "suggests," "may," "should," "could," "intends," or similar expressions. Many forward-looking statements involve known and unknown risks, uncertainties and other factors that may cause actual results to be materially different from any future results implied by such statements. These factors include, but are not limited to, our ability to continue to enhance our products and systems to address industry changes, our ability to expand our customer base and retain existing customers, our ability to effectively compete in our market segment, the lack of public information on our company, our ability to raise sufficient capital to fund our business, operations, our ability to continue as a going concern, and a limited public market for our common stock, among other risks. Many factors are difficult to predict accurately and are generally beyond the company's control. Forward-looking statements speak only as to the date they are made, and we do not undertake to update forward-looking statements to reflect circumstances or events that occur after the date the forward-looking statements are made.
FOR MORE INFORMATION, PLEASE CONTACT:
Brian Foy
Chief Marketing Officer
SOURCE: Winners, Inc.