Better than Lithium: The Next Green Energy Super-Metal Offers Explosive Profit Potential
Little-Known – Yet Hugely Important – Metal Triggers High Upside Potential for Investors
"This Energy Storage Metal – More Efficient than Lithium – Offers Investors the Next Wave of Green Energy Profits"
It's one of the world's least-known metals.
Yet it's also quickly becoming one of its most important.
Thanks to its importance in helping make energy storage batteries, vanadium – a once-obscure silvery-grey metal – is in the early stages of a breakout.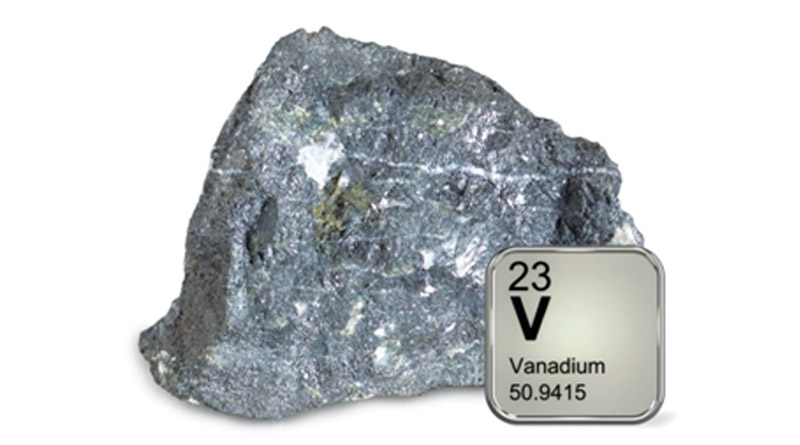 In fact, over the past two years vanadium prices have soared – doubling over the course of 2016 and then nearly doubling again from January to September 2017.
This surge in vanadium price looks to be just the beginning of a longer-term trend higher.
One North American vanadium exploration company – Stina Resources (OTC: STNUF); (CSE: SQA) – appears perfectly positioned to help investors take advantage of this high-upside scenario in the months ahead.
With a large, high-grade deposit – and key partnerships within the energy storage industry – Stina Resources is positioning itself to become a North American leader in vanadium…and in the energy storage industry.
I'll tell you more about Stina's massive North American property in just a moment. First, let me explain…
Why Vanadium Prices Are Soaring… And Why They're Likely to Continue Climbing Higher
Vanadium is a strategic metal used in the production of high-quality metal alloys.
Its most common uses are in high strength steel, in the aerospace industry, and chemical uses for the production of catalysts, ceramics, glasses and pigments, electronics and batteries.
The steel industry accounts for 90% of vanadium consumption.
"Vanadium prices have surged…prices could go higher."
Market research firm Roskill predicts that by 2020 demand for vanadium – driven mostly by China – will increase by 45%!
While the surge in vanadium demand from China is certaingly important, it's the metal's use in energy storage batteries is what is likely to sustain a long-term rally in vanadium prices.
More Efficient than Lithium: Why Vanadium is Poised to Become the Next "Super-Metal"
Lithium-ion batteries have been the most widely publicized batteries in the energy storage market to date.
But technological advances in vanadium flow batteries have reduced costs…increased safety…and increased efficiency.
"Vanadium-Flow Batteries: The Energy Storage Breakthrough We've Needed"
Vanadium flow batteries are the size of shipping containers and can be used to store power from renewable sources of energy.
This allows for smoothing out of peaks and valleys with these renewable energy sources and makes the power supply more dependable.
Vanadium flow batteries are…
Compact and fully containerized
Durable – with a 20-plus year lifetime
Safe – non-flammable with a wide temperature range
Green – reusable and rechargeable up to 400,000 cycles
Flexible – power and energy can be independently scaled
According to Forbes, "new battery technology is essential in our new energy future…energy storage demand, especially at the business and utility scales, will increase ten times in just the next five years."
By 2022, the U.S. energy storage market is expected to be worth $3.2 billion…that's a 10x increase from 2016.
"Batteries and energy storage are the core of the Fourth Industrial Revolution."
And vanadium flow batteries right now stand poised to lead this surge in the energy storage market.
The ability of vanadium flow batteries to harness the power of the wind and sun – and their superior efficiency compared to lithium-ion batteries – means that demand for vanadium will continue to push higher for the foreseeable future.
So with vanadium prices already soaring – and projected higher demand expected to prolong the rally…
How Can Investors Best Cash in on Vanadium and the Surge in Battery Storage Demand?
Vanadium doesn't trade on the open market or on a metal exchange…so you can't invest directly in the metal itself. Instead its prices are governed by sales agents.
The best way for investors to take advantage of the surge in vanadium prices may be to invest in carefully selected exploration companies poised to bring new supplies of vanadium to market.
With vanadium rich properties in Nevada – and a vision of becoming North America's first vertically integrated producer of vanadium – Stina Resources (OTC: STNUF); (CSE: SQA) offers investors a high-upside play on this emerging trend.
Stina Resources' Bison McKay claims contain a pure vanadium resource right here in North America.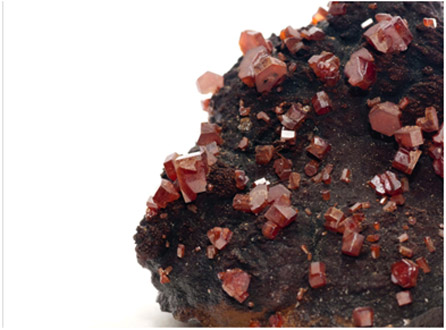 The overwhelming majority – roughly 85 percent – of the world's vanadium comes from South Africa, China and Russia.
But Stina Resources' Bisoni McKay claims in Nevada contain a pure vanadium resource.
Unlike most other vanadium deposits where the vanadium is inter-mingled with other metals such as iron or uranium, the Bisoni McKay properties contain pure vanadium in a carbonaceous shale.
Developing Now: Two Large, High-Grade Vanadium Deposits in Nevada
Stina Resources (OTC: STNUF); (CSE: SQA) is the owner of the Bisoni-Rio claims in northeastern Nevada.
Bisoni-McKay is the largest developing primary vanadium deposit in North America, with an estimated 11.8 million tons of high-grade vanadium underground.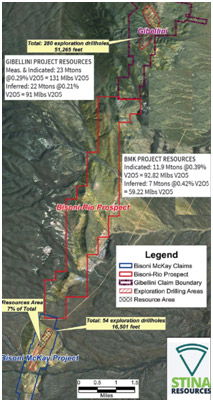 The property has been explored in the past by Union Carbide in the 1950s…Hecla Mining in the 1970s…and Noranda in the 1980s.
Close to the surface – and open-pittable – this vanadium-rich property looks to be ripe for exploration using modern extraction methods.
The company's Bisoni-Rio property is located just 5 kilometers north of Bisoni McKay and has 3,360 acres of prospective ground.
Past trench exploration on the site suggests that mineralization is an extension of the Bisoni McKay ore body.
This property is also adjacent to the Gibellini Project which has a resource of 131 million pounds of vanadium.
Strategic Partnerships Could Help Unlock this Company's Potential Quickly
To help with the development of the Bisoni McKay and Bisoni Rio properties, Stina Resources (OTC: STNUF); (CSE: SQA) partnered with Pure Vanadium Corp.
Pure Vanadium Corp. holds a portfolio of licenses for the production and sale of vanadium electrolytes.
Pure Vanadium's research and development activities involve the production of vanadium electrolyte formulations and the partnership helps support Stina's objective to become the first North American vertically integrated producer of vanadium electrolytes for the energy storage industry.
Vanadium electrolytes are the key component of vanadium-flow batteries…so the ability to produce these electrolytes right here in North America should prove to be a key advantage for Stina Resource moving forward.
Stina will soon have vanadium electrolyte licenses from Pacific Northwest National Laboratories (PNNL) that are commercialization of the research they have conducted on vanadium flow batteries. Stina Resources is collaborating with PNNL on both the development and production of electrolytes and of vanadium redox flow batteries. PNNL located in Washington State is owned by the US Department of Energy and operated by Battelle Memorial Institute.
5 Reasons Smart Invesetors Should Consider Adding Shares of Stina Resources (OTC: STNUF); (CSE: SQA)
1

There is massive projected growth in the energy storage sector as increasing amount of green power comes online. That increase in green power means demand for energy storage should remain high…and vanadium flow batteries offer one of the most effective ways to meet this need.

2

Vanadium saw its price double in 2016…and then double again from January to September of 2017. Continued strong demand from China – coupled with the explosion in demand thanks to increasing energy storage needs – should continue to push vanadium prices even higher in the months ahead.

3

Stina Resources is working to develop a large, high-grade, pure play vanadium deposit in mining-friendly Nevada. The massive Bisoni McKay is the largest developing primary vanadium deposit in North America, with an estimated 11.8 million tons of high-grade vanadium underground.

4

Stina is partnering with leading developers of vanadium redox flow batteries, such as Pure Vanadium Corp. and Pacific Northwest National Labs to accelerate its growth.

5

Stina Resources is positioning itself to

become North America's first vertically integrated producer of vanadium and vanadium electrolytes in North America

. This "first-to-market" potential – combined with an ongoing bull market for vanadium – could make

Stina Resources (OTC: STNUF); (CSE: SQA)

North America's next great energy play for investors.
Disclaimer: This release/advertorial is a commercial advertisement and is for general information purposes only. This is a Native Advertisement, meaning it is an informational paid marketing piece. Wallstreetnation.com makes no recommendation that the securities of the companies profiled or discussed on this website should be purchased, sold or held by viewers that learn of the profiled companies through our website. Please review all investment decisions with a licensed investment advisor. This Advertorial was paid for a third party. Winning Media LLC has or expects to receive one hundred eighty thousand dollars by the issuer, Stina Resources Ltd. for this advertising effort. Neither WallStreetNation nor Winning Media LLC currently holds the securities of Stina Resources Ltd. and does not currently intend to purchase such securities. This Advertorial contains forward-looking statements that involve risks and uncertainties. This Advertorial contains or incorporates by reference forward-looking statements, including certain information with respect to plans and strategies of the featured Company. As such, any statements contained herein or incorporated herein by reference that are not statements of historical fact may be deemed to be forward-looking statements. Without limiting the foregoing, the words "believe(s)" "anticipate(s)", "plan(s)" "expect(s)" "project(s)" "will" "make" "told" and similar expressions are intended to identify forward-looking statements. There are a number of important factors that could cau se actual events or actual results of the Company to differ materially from these indicated by such forward-looking statements. Certain statements contained herein constitute forward-looking statements within the meaning of Section 27A of the Securities Act of 1933 and 21E of the Exchange Act of 1934. Such statements include, without limitation, statements regarding business, financing, business trends, future operating revenues and expenses. There can be no assurance that such expectations will prove to be correct. Investors are cautioned that any forward-looking statements made by the Company, or contained in this advertorial are not guarantees of future performance, and that the Issuer's actual results may differ materially from those set forth in the forward-looking statements. Difference in results can be caused by various factors including, but not limited to, the Company's ability to be able to successfully complete planned funding agreements, to successfully market its products in competitive industries or to effectively implement its business plan or strategies. To reiterate, information presented in this advertorial contains "forward-looking statements". Any statements that express or involve discussions with respect to predictions, expectations, beliefs, plans, projections, objectives, goals, assumptions, or future events or performance are not statements of historical fact and may be "forward-looking statements." Forward-looking statements are based on expectations, estimates, and projections at the time the statements are made that involve a number of risks and uncertainties which could cause actual results or events to differ materially from those presently anticipated. Forward-looking statements in this advertorial may be identified through the use of words such as "expects," "will," "anticipates," "estimates," "believes," "may," or by statements indicating certain actions "may," "could," or "might" occur. This article does not contain or constitute an offer to sell or a solicitation of any offer to buy securities in the United States or in any other jurisdiction in which such offer or solicitation is not authorized or to any person to whom it is unlawful to make an offer or solicitation. No responsibility shall be accepted for any loss – direct, indirect, or consequential – from the information presented in this article. Prospective investors should rely on their own due diligence when intending to make any purchase of securities in Stina Resources Ltd. (referred to as Renaissance Oil in this document.)
No securities commission or other regulatory authority in Canada or any other country or jurisdiction has in any way passed upon this information and no representation or warranty is made by to that effect. The information is not a substitute for independent professional advice before making any investment decisions. The TSX Venture Exchange has not reviewed the information in this Article and does not accept responsibility for the adequacy or accuracy of it.
More information on the Company may be found under the company's profile at www.sedar.com. Wallstreetnation.com is not a certified financial analyst or licensed in the securities industry in any manner. The information in this Advertorial is subjective opinion and may not be complete, accurate or current and was paid for, so this could create a conflict of interest.