This Company is Taking a Bite Out of $50 Billion Night-Time Snack Spend, Entering CBD & Cannabis Edibles Market
Small companies in the Snack Food Industry are getting gobbled up
Nightfood Holdings, Inc. (OTC: NGTF) offers investors an opportunity to get in front of this industry boom
Americans are obese. Let's face it. As a culture, we like to eat AND we love our snacks. In fact, we are biologically wired to get cravings at night.
I personally can't fall asleep on an empty stomach and find myself rummaging through the cupboards just before bedtime looking for one final snack to inhale. The truth is, I'm not alone. Big Data analytics Corp IRI Worldwide recently released their State of the Snack Food Industry report and the results are astonishing. All categories of snacking have outpaced projected growth yet again. In fact, 44% of snack consumption occurs at night, representing a consumer spend of over $1B weekly on nighttime snacks.
Market research giant Mintel recently released a report identifying nighttime specific food and beverages as one of their most "compelling and category changing" trends for 2017 and beyond. One key takeaway from the report: The increasingly hectic pace of modern life is creating a market for food and drink that helps people of all ages calm down before bedtime, sleep better and restore the body while they rest.
Approximate 7.6 BILLION people inhabit the world and that figure is growing daily. 91% of consumers snack multiple times a day. Snacking now accounts for half (50%) of all eating occasions as Americans believe snacking is essential to daily nutrition.
Have a look at NightSnacking.com to get an idea of just how big this opportunity can be
The U.S. snacking market is worth roughly $118 billion, and growing at a compound rate of nearly 3 percent. Evidence of this has new trend has seen major M&A action in industry. Just within the past year, Kellogg announced its $600 million acquisition of RXBar, Conagra Brands acquired Angie's Artisan Treats, Mars invested in the parent company of Kind Bar, and chocolate giant Hershey announced plans to acquire Skinny Pop parent Amplify Snack Brands for about $1.6 billion. Even Campbell Soup got into the action buying Snyder's Lance for $4.87 Billion.
Major corporations see better economics in acquiring developed snack food companies rather than creating ones from scratch.
There is little doubt that America's eating habits are changing. Consumers are working longer hours. We are becoming increasingly busier and always on the run. No one has time to eat three full meals a day. As a result, people snack more in-between meals and as a replacement for meals.
The facts show, the later it gets, the worse we eat. Consumer's most popular choices at night are cookies, chips, ice cream, and candy. These options are unhealthy, and often contain ingredients and nutritional profiles that can impair sleep quality.
Now if only there was a healthy alternative to eat at night when cravings kick in ….maybe something which could satisfy those cravings AND support better asleep.
Zero Guilt before Bed: Nightfood Holdings, Inc. (OTC: NGTF) – the pioneer in this growing and evolving industry is making a name for themselves with high growth, new products, a sexy brand name, and expansion into the CBD and marijuana edibles markets. As humans, we are hard-wired to get cravings at night, and Nightfood Holdings, Inc. provides a vital solution for this dilemma.
Nightfood, Inc., "The Nighttime Snack Company", manufactures and distributes better-for-you snacks specifically formulated to satisfy unhealthy nighttime cravings in a better, healthier, more sleep-friendly way.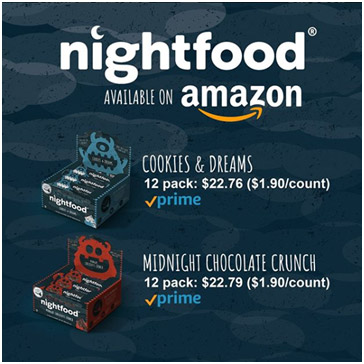 NGTF's Nightfood bars are specifically formulated for snacking between dinner and bed.
Just as sleep experts recommend, these bars are high in fiber and lower in calories, filled with complex carbs, moderate amounts of protein and plenty of minerals. There's less sugar than a cup of skim milk. This is especially important at night when the brain responds to food very differently than it would earlier in the day, signaling you to keep snacking even when you've had enough.
Consumers seem to love the bars as evidenced by great reviews on Amazon and Facebook, and creating records for highest monthly sales to date.
NGTF recently created a new wholly owned subsidiary, MJ Munchies, Inc., under which it will pursue snack and other consumer-facing opportunities within the growing marijuana and CBD sectors. MJ Munchies, Inc. was formed to exploit legally compliant opportunities in the Cannabis-Related Snack and Edibles Lines and related spaces.
NGTF intends to market some of these new products under the brand name "Half-Baked". They acquired HalfBaked.com and even filed with the United States Patent and Trademark Office for trademark protection related to the Half-Baked brand name for use in packaged snacks.
These valuable intellectual property assets can be leveraged to create a national brand of snacks under the Half-Baked trademark. The Half-Baked brand is expected to include CBD-containing snacks which contain no THC or cannabis in any form, as well as a line of cannabis-containing snacks.
Think about all the potential licensing opportunities available.
Licensing the trademark to qualified partners in certain verticals and geographic locations is the quickest and most efficient method of gaining widespread distribution of Half-Baked products in both the THC edibles and CBD space.
Due to restrictions on advertising & marketing CBD and THC products, companies are expected to face stringent restrictions on how they can market directly to consumers. This makes the strategic advantage of licensing a powerful name like Half-Baked just that much more valuable. When new states come online and allow sales of cannabis edibles, companies will be looking for any legal edge they can muster. Where do you think they will turn? Half-Baked!
I think this is the birth of a leading national edibles brand in the marijuana space.?
It is still very early in the recreational THC edibles space. Only 9 states have legalized recreational use. Most experts predict federal legalization in the coming years.
Since Half-Baked is one of the first edibles players, they could grow tremendously if/when this happens. Globally, an increasing number of countries decriminalizing cannabis is driving market growth. Several nations, such as Canada, have legalized the use of marijuana both for recreational and medical purposes. The growing social acceptance of cannabis will drive this market growth. Also, the increasing social acceptance of recreational marijuana and cannabis-infused edible products globally offers high growth opportunities to the vendors.
Take a moment and consider what a huge revenue driver this can be for Nightfood. This could be Game-Changer number 1!
The legal global cannabis market has potential to experience a whopping 1,000% growth over the next decade and could reach $140 billion dollars by 2027, according to a new analysis by European investment bank Bryan, Garnier & Co. Thanks to increasing legalization and decriminalization of cannabis products, the market is reporting exorbitant progress. A recent report by Arcview Market Research indicates that consumer spending on legal cannabis in North America is outpacing previous estimates.
I wonder how many major corporations would want to acquire Nightfood and gain access to this lucrative niche.
NGTF is tackling an immense opportunity in the Cannabis arena while utilizing Half-Baked – what I personally think is the best brand name in the space.
---
What I'm most excited about is that Nightfood is launching ice cream in a few months. If they can make snack bars that taste this good, I can't wait to see what they do with their ice cream!
NGTF announced that Jim Christensen, former Vice President of Ice Cream Sales for Unilever, has joined the Nightfood team for the launch of Nightfood nighttime ice cream and is tasked with building Nightfood ice cream into a nationally recognized brand. CEO Sean Folkson says, "We have major distribution and revenue goals in place for the next six and eighteen months."
This is the perfect time to launch Nightfood ice cream. Besides promising industry trends, Nightfood has the investment capital, and nationally-known sleep expert Dr. Michael Breus, The Sleep Doctor™, to spearhead consumer education and media awareness. All the pieces have come together for a perfect launch.
"Nightfood continues to attract the best of the best because industry data proves unhealthy and sleep-disruptive night snacking is a significant problem for tens of millions of Americans that needs to be solved," says Dr. Breus.
Ice Cream could be Game Changer number 2. Not to be a wise-guy, but who wants to eat nutrition bars at night when I can devour a pint of Ice Cream?!?!
NGTF is building a huge network of brand ambassadors who are coming on board and see the vision being executed. Besides The Sleep Doctor and Jim Christensen, Tom Morse the founder of 5 Hour Energy, Doron Stern, the Former VP of Marketing at Chobani, and many other big names have joined the Nightfood team to oversee the corporate metamorphosis.
NGTF has a perfect storm of serious partners and advisors, financial capital, new product launch, the first of its kind in a potentially skyrocketing space, and a very recognizable trademarked brand name. The company is expecting tremendous revenue growth over the next several quarters.
There is nothing standing in Nightfood's Way except execution.
Nightfood Holdings, Inc. (OTC: NGTF) is trading at just over $14M market cap, yet has the potential to be valued so much higher…remember those young snack companies I linked to selling for hundreds of millions (and billions) of dollars?
Plus, Nightfood is filling a definitive consumer need. If you looked at NightSnacking.com, you got a feeling for the size of this category, which could easily grow to the billions.
Consider just how valuable that could be, and then wait till Wall Street finally figures it out. What can this do for your portfolio? We've seen increasingly aggressive consolidation within the sector. Could Nightfood be an attractive candidate for a buyout or takeover once all of their products are fully launched and licensed?
Investors are just beginning to notice Nightfood Holdings, Inc. As NGTF continues to exhibit this kind of growth, and pioneers two brands each with incredible potential, we could see some monster earnings and life-changing outcomes in the not too distant future. Ice cream is a huge industry which is only getting larger. Imagine what can happen to the stock price if their sleep-supporting nighttime ice cream hits it big?
Between the current market cap and recent large-scale visibility, and the ice cream set to launch in Q4 2018, this could evolve into one of the best investment opportunities of the year. Don't let it pass you by.
Disclaimer:
This release/advertorial is a commercial advertisement and is for general information purposes only. This is a Native Advertisement, meaning it is an informational paid marketing piece. Wallstreetnation.com makes no recommendation that the securities of the companies profiled or discussed on this website should be purchased, sold or held by viewers that learn of the profiled companies through our website. Please review all investment decisions with a licensed investment advisor. This Advertorial was paid for the issuer, NightFood Holdings, Inc. in an effort to enhance public awareness of Nightfood Holdings, Inc. and its securities. DF Media has or expects to receive thirty thousand dollars by the issuer, Nightfood Holdings. for this advertising effort. WallStreetNation nor DF Media currently holds the securities of Nightfood Holdings, Inc. and does not currently intend to purchase such securities. This Advertorial contains forward-looking statements that involve risks and uncertainties. This Advertorial contains or incorporates by reference forward-looking statements, including certain information with respect to plans and strategies of the featured Company. As such, any statements contained herein or incorporated herein by reference that are not statements of historical fact may be deemed to be forward-looking statements. Without limiting the foregoing, the words "believe(s)" "anticipate(s)", "plan(s)" "expect(s)" "project(s)" "will" "make" "told" and similar expressions are intended to identify forward-looking statements. There are a number of important factors that could cau se actual events or actual results of the Company to differ materially from these indicated by such forward-looking statements. Certain statements contained herein constitute forward-looking statements within the meaning of Section 27A of the Securities Act of 1933 and 21E of the Exchange Act of 1934. Such statements include, without limitation, statements regarding business, financing, business trends, future operating revenues and expenses. There can be no assurance that such expectations will prove to be correct. Investors are cautioned that any forward-looking statements made by the Company, or contained in this advertorial are not guarantees of future performance, and that the Issuer's actual results may differ materially from those set forth in the forward-looking statements. Difference in results can be caused by various factors including, but not limited to, the Company's ability to be able to successfully complete planned funding agreements, to successfully market its products in competitive industries or to effectively implement its business plan or strategies. To reiterate, information presented in this advertorial contains "forward-looking statements". Any statements that express or involve discussions with respect to predictions, expectations, beliefs, plans, projections, objectives, goals, assumptions, or future events or performance are not statements of historical fact and may be "forward-looking statements." Forward-looking statements are based on expectations, estimates, and projections at the time the statements are made that involve a number of risks and uncertainties which could cause actual results or events to differ materially from those presently anticipated. Forward-looking statements in this advertorial may be identified through the use of words such as "expects," "will," "anticipates," "estimates," "believes," "may," or by statements indicating certain actions "may," "could," or "might" occur. More information on the Company may be found at
www.sec.gov
readers can review all public filings by the Company at the SEC's EDGAR page. Wallstreetnation.com is not a certified financial analyst or licensed in the securities industry in any manner. The information in this Advertorial is subjective opinion and may not be complete, accurate or current and was paid for, so this could create a conflict of interest.