Investor Alert: Revolutionary Opportunity to Be Part of a High-Tech Solution to Society's Growing Active Shooter Threat
Patriot One Technologies, Inc. (TSX: PAT); (OTCQX: PTOTF) is a Global Leader in the Rapidly-Growing Covert Threat Detection Space
The ever-increasing threat of violent activities has changed our world forever.
With multiple mass murders at our schools, live concert events, theaters and other venues…the question is asked over and over:
How can we ensure safety at these venues without creating a fortress-like environment that potentially bankrupts businesses and terrifies the general public?
This unfortunate scenario has led to rapid growth in the security and threat detection industries.
In fact, according to a report published by MarketsandMarkets, the threat detection systems market is projected to grow from US $48.38 billion in 2015 to US $119.17 billion by 2022.i
In the midst of this growth comes a company that is quickly establishing a strong reputation – and new partnerships with Cisco, IBM and Raytheon – thanks to its multi-sensor approach to threat detection and its employment of game-changing artificial intelligence.
That company is Patriot One Technologies, Inc. (TSX: PAT); (OTCQX: PTOTF), a Toronto-based company, with a "Hall of Fame"-caliber advisory team, that offers investors an opportunity to be a part of a high-tech solution to this growing global problem.
Patriot One Technologies, Inc. (TSX: PAT); (OTCQX: PTOTF) is a forward-thinking company whose mission is to deliver innovative threat detection and counter-terrorism solutions for safer communities.
The Company's PATSCAN™ Multi-Sensor Covert Threat Detection Platform provides a network of advanced sensor technologies with powerful next generation AI/machine learning software.
Part of what makes this threat detection platform so unique is that it can be covertly deployed from far perimeter to interiors across multiple weapons-restricted facilities.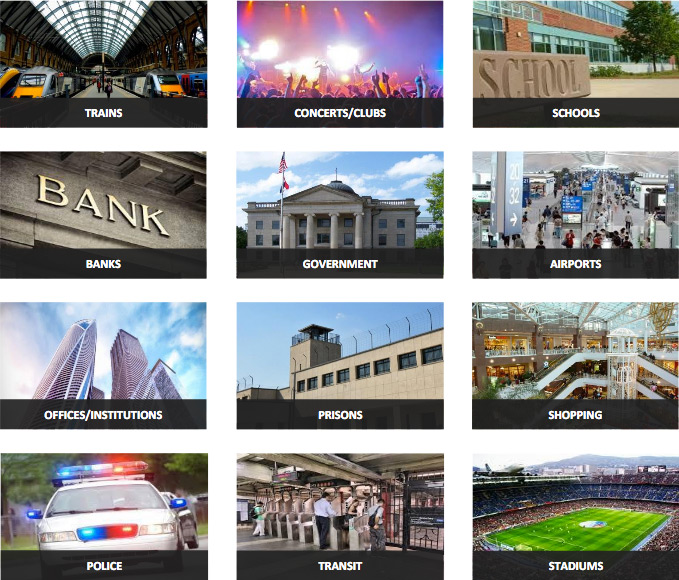 The PATSCAN™ platform identifies and reports threats wherever required; from car park… to building approach… to employee & public entryways to inside buildings. Each PATSCAN solution identifies weapons, related threats or disturbances for immediate security response.
Patriot One's Multi-Sensor Covert Threat Detection Platform Offers Cutting-Edge Technology and Next-Generation Artificial Intelligence
Patriot One Technologies, Inc. (TSX: PAT); (OTCQX: PTOTF) is moving quickly to move its revolutionary technology ahead in order to address the growing global need for effective Active Threat management, including active shooter and terrorist events, in an increasingly threatened world.
By offering an unobtrusive, layered, multi-sensor method to threat detection, Patriot One Technologies is able to harden buildings, inside and out, without creating a fortress-like environment for the general public.
The revolutionary PATSCAN™ Multi-Sensor Covert Threat Detection Platform is currently in paid client trials across North America. Each security system integrator or company is conducting their own test of the PATSCAN™ suite with select clients or their own properties.
Following these paid pilots, these companies will look to purchase additional PATSCAN™ solutions for their clients and their additional facilities, as well as sell the solutions to new clients. In addition, other Patriot One reseller clients will be able to purchase these PATSCAN™ solutions for their end-user clients around the world.
As you consider the potential market for Patriot One Technologies, Inc. (TSX: PAT); (OTCQX: PTOTF) and its threat detection / counter-terrorism solutions, take a moment to learn more about the three components of the Company's Multi-Sensor Threat Detection Platform…
Multi-Sensor Platform Component #1: PATSCAN™ CMR Cognitive Microwave Radar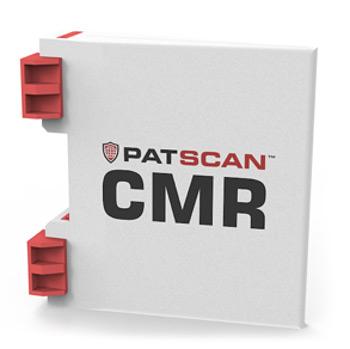 The PATSCAN™ CMR is a first-in-class covert primary screening system for the detection of on-body concealed weapons at access points of weapons-restricted buildings and facilities.
PATSCAN™ CMR is an easily concealed, cost-effective and non-invasive full body scanning technology that is proven, practical and safe.
Combining machine learning and radar resonance sensing (i.e.: cognitive microwave radar technology), the PATSCAN™ CMR offers stand-off detection in public and private scenarios.

The system acts as an automatic warning system for individual on-body screening for concealed weapons, such a rifles and bombs which are causing many of these tragedies.  Low power broad-band microwave emissions interrogate and compare specific patterns to a database of known electronic weapons signatures.
The PATSCAN™ CMR is further enhanced by its unique cognitive ability to go beyond detection in order to continuously learn new weapon profiles, assess threats, and dramatically increase command and control decision making.
Multi-Sensor Platform Component #2: PATSCAN™ VRS Video Threat Recognition
Through proprietary automation and computer vision software technology, the PATSCAN™ VRS (video recognition system) dramatically increases detection probability of weapons, public disturbances, suspicious behaviors and incident identification.
The PATSCAN™ VRS uses artificial intelligence coupled with video surveillance and active monitoring to detect and inform security personnel of active threats, public disturbances, unusual behavior or items, and terrorist activity.
Leveraging machine learning the technology isolates, identifies, categorizes and displays anomalous events well before average human security operators could react due to multi-camera overload. Timely action limits violent events.
The PATSCAN™ VRS detects:
Guns, rifles & bombs
Fights & public disturbances
Intrusions & break-ins
Suspicious items & behavior
Multi-Sensor Platform Component #3: PATSCAN™ STS Powered by Sotech Secure
Employing proprietary multi-plane splicing technology, the PATSCAN™ STS is a multi-chemical threat detection sensor designed to rapidly detect trace airborne chemicals with a parts-per-billion sensitivity.
This innovative technology allows for the detection, identification and tracking of trace explosives, chemical warfare agents, volatile organics, nerve agents and narcotics.  Sotech Secure is a joint venture between Patriot One Technologies and Nano Bio Detection.
PATSCAN™ STS Threats Detected:
Explosives
Gun Powder
Chemical Warfare Agents
Volatile Organics
Nerve Agents
Narcotics
Fentanyl
Breaking News:

Patriot One Signs Substantial Reseller Agreement for Deployment of PATSCAN™ VRS Solution with Cramer Security & Investigations, Inc.
On May 23, 2019 Patriot One Technologies, Inc. announced that it had entered into a binding reseller agreement with West Virginia-based Cramer Security & Investigations, Inc. to distribute Patriot One's PATSCAN VRS commercial units.
The agreement is for an initial term of five years, and pursuant to the Agreement Cramer Security has acquired an initial 3-year lease of the solution as a first phase approach to deploying the PATSCAN multi-sensor covert threat detection platform across a broad range of its end customers.
The Agreement requires Cramer Security to use its commercially best efforts to deploy at least 150 PATSCAN VRS systems, including associated software license, maintenance and support, which, provided the minimum yearly commitment is met, represents a value of $6,285,166 CAD ($4,672,800 USD) over this 3-year lease period.
The Agreement includes minimum yearly sales requirements in order for Cramer Security to maintain its System pricing equal to 50 Systems in the first year, no less than 100 Systems by the end of the second year, and no less than 150 Systems by the end of the third year.
Patriot One Technologies is Led by an Experienced Team of Counter-Terrorism Experts
When considering any potential investment, it's critical to evaluate the strength of the leadership team responsible for guiding a company's success. In the case of Patriot One Technologies, Inc. (TSX: PAT); (OTCQX: PTOTF), that leadership team includes some of the world's foremost experts in the areas of counter-terrorism, conflict resolution and government/corporate interface.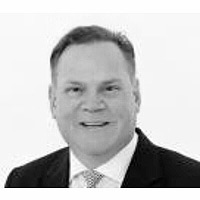 Scott Shepherd – Chairman
Mr. Shepherd has worked with the Department of Foreign Affairs and International Trade, Export Development Corp., Imperial Chemical Industries PLC, Trafalgar House PLC, and Nexus group of Companies.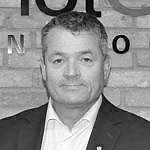 Martin Cronin – CEO & President
Mr. Cronin is an expert in counter-terrorism, conflict resolution and government/corporate interface. His career includes over 20 years of experience in international diplomacy with the British Government.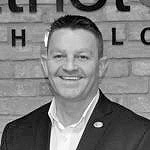 Phil Lancaster – SVP Business Development & Government Relations
Mr. Lancaster has had an extensive career in law enforcement. As a former British police officer, he brings years of experience working internationally in VIP close protection, as well as service in British Overseas Territories.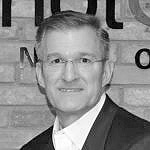 Robert Lex – VP Operations
Robert Lex brings over 25 years of experience in global manufacturing operations and supply chain management for the high-tech and custom automation industries, recently with Avigilon.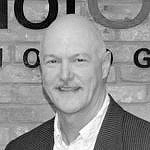 Franco Cerantola – VP Product Delivery
Mr. Cerantola's career spans over 31 years of successful experience in engineering/operations and program management in the aerospace, telecommunication and high-tech industries including defense & detection sectors with national and international exposure.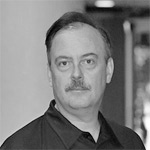 John Gillies – Director
Mr. Gillies brings over 33 years of federal government experience, principally within the national and international security and intelligence environment. Mr. Gillies served as an Assistant Director with the Canadian Security Intelligence Service (CSIS) and as a member of the CSIS Senior Executive Committee.
In addition to Patriot One Technologies' management team, the Company also has relationships with a number of key advisors, including…
* Dr. Natalia K. Nikolova serves on the faculty of McMaster University in Canada and is the Canada Research Chair in High-Frequency Electromagnetics.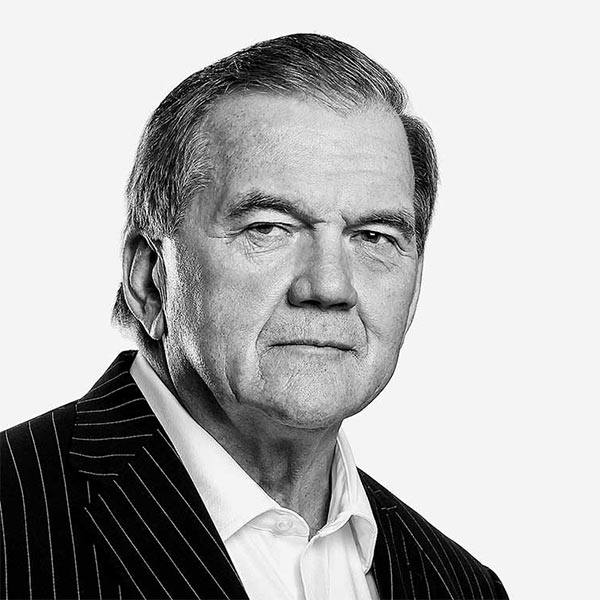 * Governor Tom Ridge served is Chairman of Ridge Global and served as the first U.S. Secretary of Homeland Security, Governor of Pennsylvania and Member of the U.S. House of Representatives from Pennsylvania.
* Jamie Hamilton Graham served as Chief Constable of the Victoria and Vancouver Police Departments and has had 34 years in law enforcement, including command roles with the Royal Canadian Mounted Police (RCMP).

* Andrew Brear is a former British diplomatic officer with extensive international experience in political, intelligence and security issues and has held diplomatic roles in Africa, Middle East and United Kingdom.
* Karl Wagner served as a senior officer in the US Intelligence Community, with expertise in leading diverse, enterprise-level teams globally. A subject matter expert in counter-intelligence and counter-terrorism.
* Ward Elcock is a former Deputy Minister for Public Safety with Canadian Federal Government, responsible for five law enforcement and security agencies, including RCMP, CSIS and Corrections Canada.

1) Be Part of the Solution – Our society is plagued by acts of violence on its citizens – including innocent schoolchildren. Patriot One Technologies, Inc. (TSX: PAT); (OTCQX: PTOTF) offers you the opportunity to invest in a firm at the forefront of covert weapon detection designed to help prevent these violent acts.
---
2) Invest in a Global Leader – Patriot One Technologies is that global leader with a mission to be the world's foremost proponent and provider of innovative covert threat detection and counter terrorism solutions and services for general public safety.
---
3) Cost-Effective, Covert, Easy-to-Deploy Solutions – Patriot One Technologies' PATSCAN™ family of threat detection solutions systems are among the most cost-effective – the easiest to deploy – and starting to roll out into the marketplace today. This makes Patriot One Technologies an attractive option for more than 9,000 qualified reseller and end-user client leads.
---
4) Next Generation Artificial Intelligence – Patriot One Technologies' PATSCAN™ Multi-Sensor Covert Threat Detection Platform provides a network of advanced sensor technologies with powerful next generation AI/machine learning software. Each solution in the platform can be deployed covertly and identifies weapons, related threats or disturbances for immediate security response.
---
5) Rollout is Underway – Paid pilot tests began in Q4 2018 for PATSCAN solutions across North America. Deployments are projected to expand to the company's first security system integration resellers around the world in Q2 2019.
---
6) Expert Leadership Team – Patriot One Technologies, Inc. (TSX: PAT); (OTCQX: PTOTF) is led by a team that includes some of the world's foremost experts in the areas of counter-terrorism, conflict resolution and government/corporate interface.
---
7) Solutions…Not Just Technology – The team at Patriot One Technologies is committed to helping their clients achieve success and prevent violent acts. That's why the company offers more than just "off-the-shelf" technology. Instead, Patriot One works closely with its clients and their on-site staff and remains engaged to support in the design of policies and procedures to neutralize potential threats in advance.
i https://www.marketsandmarkets.com/PressReleases/threat-detection-system.asp
---
Disclaimer: This release/advertorial is a commercial advertisement and is for general information purposes only. This is a Native Advertisement, meaning it is an informational paid marketing piece. WallStreetNation.com makes no recommendation that the securities of the companies profiled or discussed on this website should be purchased, sold or held by viewers that learn of the profiled companies through our website. Please review all investment decisions with a licensed investment advisor. This Advertorial was paid for by Patriot One Technologies, Inc. in an effort to enhance public awareness of Patriot One Technologies, Inc. and its securities. Winning Media has or expects to receive over one thousand dollars by Patriot One Technologies, Inc. as a total budget for this advertising effort on CPC campaign. Neither WallStreetNation.com or Winning Media currently holds the securities of Patriot One Technologies, Inc. . and does not currently intend to purchase such securities. This Advertorial contains forward-looking statements that involve risks and uncertainties. This Advertorial contains or incorporates by reference forward-looking statements, including certain information with respect to plans and strategies of the featured Company. As such, any statements contained herein or incorporated herein by reference that are not statements of historical fact may be deemed to be forward-looking statements. Without limiting the foregoing, the words "believe(s)" "anticipate(s)", "plan(s)" "expect(s)" "project(s)" "will" "make" "told" and similar expressions are intended to identify forward-looking statements. There are a number of important factors that could cau se actual events or actual results of the Company to differ materially from these indicated by such forward-looking statements. Certain statements contained herein constitute forward-looking statements within the meaning of Section 27A of the Securities Act of 1933 and 21E of the Exchange Act of 1934. Such statements include, without limitation, statements regarding business, financing, business trends, future operating revenues and expenses. There can be no assurance that such expectations will prove to be correct. Investors are cautioned that any forward-looking statements made by the Company, or contained in this advertorial are not guarantees of future performance, and that the Issuer's actual results may differ materially from those set forth in the forward-looking statements. Difference in results can be caused by various factors including, but not limited to, the Company's ability to be able to successfully complete planned funding agreements, to successfully market its products in competitive industries or to effectively implement its business plan or strategies. To reiterate, information presented in this advertorial contains "forward-looking statements". Any statements that express or involve discussions with respect to predictions, expectations, beliefs, plans, projections, objectives, goals, assumptions, or future events or performance are not statements of historical fact and may be "forward-looking statements." Forward-looking statements are based on expectations, estimates, and projections at the time the statements are made that involve a number of risks and uncertainties which could cause actual results or events to differ materially from those presently anticipated. Forward-looking statements in this advertorial may be identified through the use of words such as "expects," "will," "anticipates," "estimates," "believes," "may," or by statements indicating certain actions "may," "could," or "might" occur. More information on the Company may be found at www.sec.gov readers can review all public filings by the Company at the SEC's EDGAR page. WallStreetNation.com is not a certified financial analyst or licensed in the securities industry in any manner. The information in this Advertorial is subjective opinion and may not be complete, accurate or current and was paid for, so this could create a conflict of interest.