Gold Price Surge Could Trigger High Upside Opportunity
Junior Exploration Companies Offer Significant Leverage for Investors Looking to Maximize a
Gold Bull Market
"Hall-of-Fame" Leadership Team at Aben Resources Ltd. (
TSXV: ABN
); (
OTCQB: ABNAF
) Looks to Repeat its Past Success in BC's Golden Triangle
The new bull market for gold has arrived.
The expectation of higher interest rates in the United States – combined with ongoing geopolitical tensions – are helping trigger a potential surge in gold prices that could prove to be the beginning of a long-term bull market.
Analyst Boris Schlossberg – managing director of FX strategy at BK Asset Management – recently predicted that political uncertainty could send gold prices higher in the near-term.
"If we had some sort of geopolitical risk, especially geopolitical risk with Iran, gold will always be a harbor of safety and will have a sharp spike higher," Schlossberg said.
In addition to the potential nuclear threat from Iran, ongoing geopolitical tension with Russia – and the threat of financially devastating trade wars – are contributing to increased volatility for U.S. stocks.
"Go Gold: Inflationary Tariffs Could Supercharge the Yellow Metal"
This scenario is unfolding quickly – and investors should consider taking steps to prepare for the possibility of a sharp spike in gold prices this summer.
Aben Resources Ltd. (TSXV: ABN); (OTCQB: ABNAF): High Grade Gold and Copper Projects Provide Significant Upside Potential
Investors looking for the best way to play a potential spike in gold prices – and a potential long-term gold bull market – have plenty of options.
Investing in a gold ETF…purchasing the physical metal…or investing in major gold producers are all methods for adding gold upside exposure – and each of those investment types comes with its own advantages and disadvantages.
But for those investors looking to exploit rising gold prices for maximum upside potential…junior exploration companies provide the most leverage.
One junior exploration company in particular – a company with a flagship project located in close proximity to very recent, high-grade discoveries – is gaining increased attention from the investing community.
Aben Resources Ltd. (TSXV: ABN); (OTCQB: ABNAF) is a publicly traded gold exploration company currently working on three highly prospective gold projects in geopolitically favorable Western Canada.
The company's focus and flagship Forrest Kerr Project – located in British Columbia's Golden Triangle region – is located near recent high-grade discoveries made by GT Gold (TSXV: GTT), Garibaldi Resources (TSXV: GGI) and Colorado Resources (TSXV: CXO).
The Chico Project, which is located in Saskatchewan — recently ranked the Number One mining jurisdiction in the world by the Fraser Institute.
And the Justin Project, which is located in the southeast Yukon adjacent to Golden Predator's 3 Aces Project.
Game-Changing Deposits Have Been Found Within British Columbia's Golden Triangle
British Columbia's Golden Triangle Region is one of the world's most prolific gold and base metal bearing regions.
A number of significant mineral deposits have been discovered here – the most famous of which were the Snip mine (1.1 million ounces recovered at an average grade of 27.5 g/t gold) and the Eskay Creek mine (producing 3 million ounces of gold and 160 million ounces of silver).
More recently, a new high-grade gold discovery in 2017 by GT Gold (TSXV: GTT) at its Saddle South prospect in the Golden Triangle triggered an explosion in share price.
GT Gold's discovery was large enough to send shares of GT Gold soaring from roughly 30 cents a share all the way to nearly $3 a share in just a matter of weeks.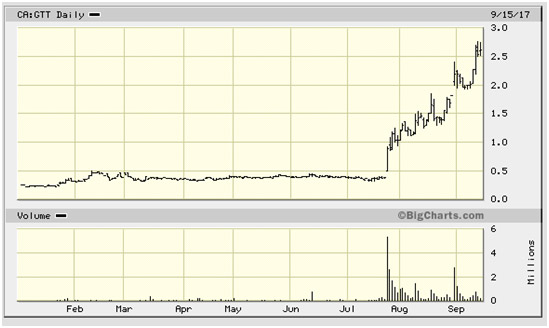 Another notable discovery and success last year was Garibaldi Resources (TSXV: GGI). They made a base metal discovery on their property adjacent to Aben's Forrest Kerr Project and subsequently had resource-investing billionaire Eric Sprott make a large strategic investment in their company. Aben has base metal showings and targets on its project with similar geological indicators to those seen at Garibaldi's project.
In addition to GT Gold and Garibaldi's successes last year, another company – Colorado Resources (TSXV: CXO) – also made "significant discoveries" in the last several years as a result of its drilling programs at its KSP Property within the Golden Triangle…generating even further market excitement about the potential for near-term exploration success in the region.
Colorado's success adjacent to the south of Aben's Forrest Kerr project attracted one of the world's largest gold mining companies Goldcorp (TSX: G) (NYSE: GG) to make a strategic investment of $7 million into Colorado in 2017.
BC's Golden Triangle is also home to Pretium Resources' Brucejack Mine – a massive, 2,700 tonnes-per-day high-grade gold underground mine. This mine began commercial operation in the summer of 2017 and is estimated to have 8.7 million ounces of gold reserves with an average gold grade of 16.1 g/t in years 1-10 of production.
These types of game-changing discoveries and deposit are what the Golden Triangle is known for…and Aben Resources Ltd. (TSXV: ABN); (OTCQB: ABNAF) is conducting a drilling program right in the middle of this historic mining district.
Forrest Kerr: High-Upside, 23,000-Hectare Project in the Middle of The Golden Triangle
Aben Resources' Forrest Kerr Project is located precisely in the middle of BC's Golden Triangle – less than 30 kilometers northwest of the Eskay Creek Mine that produced roughly 3.3 million ounces of gold and 160 million ounces of silver at average grades of 45 g/t gold and 2,224 g/t silver.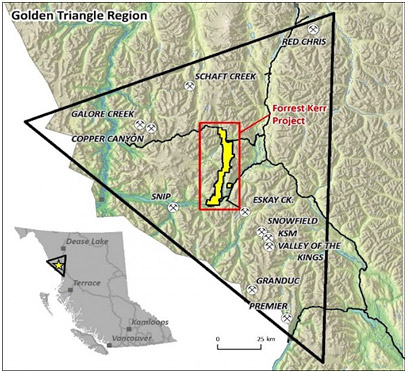 The 23,000 hectare project was acquired in the summer of 2016 and has seen significant historic work performed across the entire project area.
The Forrest Kerr property has had multiple high-grade gold drill intercepts dating back to the early 1990s, but for a number of reasons those results were not aggressively pursued.
Enter Aben Resources Ltd. (TSXV: ABN); (OTCQB: ABNAF) and its experienced team of mining professionals. Relying on their expertise – and their successful track record within the Golden Triangle – Aben Resources has spent more than a year analyzing the historical data with the help of structural geologists to identify the most optimal targets for drilling.
The company is moving quickly – launching a 2018 drilling program that will encompass 5,000 meters in 18-22 holes.
The company is particularly excited about following up on last year's high-grade intercepts at the Boundary Zone which included 21.5 g/t gold and 3.1% copper over 6 meters – the Boundary Zone has only been drill tested over a limited area, where high grade gold in quartz veins were intercepted.
This year's drilling program is undertaken with the hope of expanding upon the known zones of high grade mineralization. If successful, Aben Resources Ltd. (TSXV: ABN); (OTCQB: ABNAF) could generate the same type of "buzz" in 2018 that companies like GT Gold and Garibaldi generated in 2017.
Year-Round Upside Potential for
Aben Resources Ltd.
It's also important to keep in mind that unlike most exploration plays focused in the Golden Triangle, Aben Resources Ltd. (TSXV: ABN); (OTCQB: ABNAF) offers upside potential year-round.
Typically, the harsh winter weather conditions in the Golden Triangle limit drilling to the period between May and October each year. Those off months can make for slow times not just for drilling…but also for investors holding shares of exploration companies in the region.
But Aben Resources Ltd. offers investors year-round upside potential thanks to their additional properties in Saskatchewan.
The Experts Who Discovered Eskay Creek Look to Do it Again With Aben Resources Ltd.
(TSXV: ABN); (OTCQB: ABNAF)
Aben Resources Ltd. (TSXV: ABN); (OTCQB: ABNAF) is led by an experienced management team with proven track records of success and focused expertise in Western Canada.
In fact, three members of the team alone possess more than 100 years of experience in the mining industry.
Chairman Ronald Netolitzky is a Canadian Mining Hall of Famer and was part of the team that discovered Eskay Creek and its 3.3 million ounces of high-grade gold and 160 million ounces of high-grade silver.
This team of experts with extensive experience in this region is now looking to repeat the success of the Eskay Creek Mine with Aben Resources Ltd. (TSXV: ABN); (OTCQB: ABNAF).
The experts leading this venture include…
Ronald Netolitzky, M.Sc. Geology – Director, Chairman
Ron Netolitzky serves as Chairman of the Board of Aben Resources. Mr. Netolitzky holds a Bachelor of Science degree from the University of Alberta and a M.Sc. degree from the University of Calgary, both in geological sciences. He has had an illustrious career in the mining and exploration industry with over 40 years of experience and having been directly associated with three major gold discoveries in Canada that subsequently went into production: Eskay Creek, Snip and Brewery Creek. Notably, two of these deposits and mines, Eskay Creek and Snip, are located in the Golden Triangle of British Columbia. In 2006, his Viceroy Exploration was acquired by Yamana Gold Inc. for its Gualcamayo gold deposit for $577 million. Mr. Netolitzky has been honored with the Prospector of the Year award from the PDAC, and Developer of the Year award from the BC & Yukon Chamber of Mines. In 2015, he was inducted into the Canadian Mining Hall of Fame.
James G. Pettit – Director, President and CEO
Jim Pettit has been President & CEO and a Director of Aben Resources since November 2002. Mr. Pettit is currently serving on the board of directors of five publicly traded companies and offers over 30 years of experience within the industry specializing in finance, corporate governance, executive management and compliance. Jim was previously Chairman and CEO of Bayfield Ventures Corp. which was acquired by New Gold Inc. in 2014.
Timothy Termuende, P.Geo. – Director
Tim Termuende serves as a Director of Aben Resources and is a professional geologist with over 30 years' experience in the mineral exploration industry and is a Qualified Person as defined by National Instrument 43-101. Since earning his degree in Geological Sciences at the University of British Columbia in 1987, Mr. Termuende has worked on exploration projects throughout North, Central, and South America and has been personally involved in exploration at and around Aben's flagship project, Forrest Kerr in the Golden Triangle, since the early 1990's. He has been continuously active in mineral exploration throughout western Canada since 1976, and currently oversees a broad range of ongoing exploration projects located throughout British Columbia, Saskatchewan, the Yukon and the Northwest Territories.
7 Reasons Investors Should Consider Adding Shares of Aben Resources Ltd. (TSXV: ABN); (OTCQB: ABNAF)
1

The potential for higher interest rates plus increased geopolitical tensions have created an ideal environment for higher gold prices. We could right now be in the early stages of the next sustained bull market for gold.

2

As a junior exploration company, Aben Resources offers significant upside as gold prices rise. Exploration companies who are able to bring significant deposits to the attention of the markets have the potential to rise much more rapidly than more traditional metals investments.

3

Location – Aben Resources' Forrest Kerr Project is located in the middle of British Columbia's Golden Triangle – one of most prolific mining regions in the world.

4

BC's Golden Triangle not only has a prolific history for mineral exploration, it was also home to multiple notable, game-changing discoveries last year by GT Gold, Garibaldi and Colorado Resources. With Aben Resources' Forrest Kerr project in such close proximity to these discoveries, the potential exists for Aben Resources to uncover a significant discovery via its 2018 drilling program.

5

Aben Resources Ltd. (TSXV: ABN); (OTCQB: ABNAF)

is led by a "Hall of Fame"-caliber team of experts…a group with more than 100 plus years of experience. Now this successful group – including the man behind the famous Eskay Creek deposit – look to repeat their success.

6

The company is moving quickly to pounce on this opportunity by doubling the drill program from last year. With over $3 million in the treasury, the company is in sound financial position to undertake an aggressive drilling program with a goal of uncovering a significant discovery and deposit at Forrest Kerr.

7

High Upside Potential

– With Aben Resources pursuing an aggressive drilling program, news could come at any time over the next several months.

A discovery on the scale of last summer's news from GT Gold or Garibaldi could trigger a fast-moving, high-upside scenario for individual investors who have already staked their claim in

Aben Resources Ltd. (TSXV: ABN); (OTCQB: ABNAF)

.
Disclaimer:
This release/advertorial is a commercial advertisement and is for general information purposes only. This is a Native Advertisement, meaning it is an informational paid marketing piece. Wallstreetnation.com makes no recommendation that the securities of the companies profiled or discussed on this website should be purchased, sold or held by viewers that learn of the profiled companies through our website. Please review all investment decisions with a licensed investment advisor. This Advertorial was paid for a third party, Winning Media LLC in an effort to enhance public awareness of Aben Resources Ltd. and its securities. Winning Media has or expects to receive one hundred fifty thousand dollars by the issuer, Aben Resources Ltd. for this advertising effort. Neither WallStreetNation nor Winning Media currently holds the securities of Aben Resources Ltd. and does not currently intend to purchase such securities. This Advertorial contains forward-looking statements that involve risks and uncertainties. This Advertorial contains or incorporates by reference forward-looking statements, including certain information with respect to plans and strategies of the featured Company. As such, any statements contained herein or incorporated herein by reference that are not statements of historical fact may be deemed to be forward-looking statements. Without limiting the foregoing, the words "believe(s)" "anticipate(s)", "plan(s)" "expect(s)" "project(s)" "will" "make" "told" and similar expressions are intended to identify forward-looking statements. There are a number of important factors that could cau se actual events or actual results of the Company to differ materially from these indicated by such forward-looking statements. Certain statements contained herein constitute forward-looking statements within the meaning of Section 27A of the Securities Act of 1933 and 21E of the Exchange Act of 1934. Such statements include, without limitation, statements regarding business, financing, business trends, future operating revenues and expenses. There can be no assurance that such expectations will prove to be correct. Investors are cautioned that any forward-looking statements made by the Company, or contained in this advertorial are not guarantees of future performance, and that the Issuer's actual results may differ materially from those set forth in the forward-looking statements. Difference in results can be caused by various factors including, but not limited to, the Company's ability to be able to successfully complete planned funding agreements, to successfully market its products in competitive industries or to effectively implement its business plan or strategies. To reiterate, information presented in this advertorial contains "forward-looking statements". Any statements that express or involve discussions with respect to predictions, expectations, beliefs, plans, projections, objectives, goals, assumptions, or future events or performance are not statements of historical fact and may be "forward-looking statements." Forward-looking statements are based on expectations, estimates, and projections at the time the statements are made that involve a number of risks and uncertainties which could cause actual results or events to differ materially from those presently anticipated. Forward-looking statements in this advertorial may be identified through the use of words such as "expects," "will," "anticipates," "estimates," "believes," "may," or by statements indicating certain actions "may," "could," or "might" occur. More information on the Company may be found at
www.sec.gov
readers can review all public filings by the Company at the SEC's EDGAR page. Wallstreetnation.com is not a certified financial analyst or licensed in the securities industry in any manner. The information in this Advertorial is subjective opinion and may not be complete, accurate or current and was paid for, so this could create a conflict of interest.