Drug Delivery Breakthrough: Innovative Biotech Company Taps into Extraordinary Potential of Psilocybin
Little-known SILO Pharma (OTC: SILO) is Harnessing the Power of Psychedelics to Deliver Breakthrough Medical Solutions
One unique company – currently flying under the radar of most investors – is making impressive strides in the psilocybin research space.
That company is SILO Pharma (OTC: SILO), a unique developmental stage biopharma company that is bridging the gap between traditional pharmaceuticals and the emerging psychedelics space.
With an impressive pipeline of assets, SILO Pharma (OTC: SILO) is focused on potential breakthroughs by combining traditional therapeutics with the power of psychedelic research.
Over the past several weeks, the company has announced a number of significant agreements and milestones that could greatly influence the short- and long-term profit potential associated with the company's share price.
Here's what has been happening:
*In early June, SILO Pharma announced it had entered into a Scientific Research Agreement with the University of California San Francisco to study psilocybin as an anti-inflammatory agent in patients suffering from Parkinson's disease and bipolar disorder.
Psilocybin and related compounds have shown strong anti-inflammatory effects in non-human animals, raising the possibility that reducing inflammation is a possible mechanism underlying psilocybin's positive treatment effects in multiple disorders.
A better understanding of the anti-inflammatory effects of psilocybin – which this study hopes to provide – has potential to allow for optimization and personalization of psilocybin treatment.
* In May, SILO Pharma announced an important milestone in its research into the effects of psilocybin on potentially helping treat Parkinson's disease.
The company announced that its investigator led study using Psilocybin to treat Parkinson's disease had been submitted for ethics board review in the Netherlands and stated that it looked forward to sharing further information on this study with the scientific community.
* And in late April, the company announced that it had entered into a joint venture with Zylo Therapeutics, the developer of an innovative sustained-release topical delivery system.
This joint venture will utilize Zylo's sustained release topical delivery system using SILO Pharma's expertise in the use of psychedelics.
This Joint Venture is part of SILO Pharma's vision of bringing ground breaking therapeutics to patients in need. The ability to deliver Ketamine or Psilocybin in a time released manner will allow the company to explore both the safety and efficacy of its therapeutics while hopefully diminishing the hallucinogenic effects of psychedelics.
Massive Growth Potential in a
Market Soaring to $6.8 Billion
These new developments are important because of the tremendous growth being seen in the market for psychedelic drugs.
In fact, experts project that this market will grow at an impressive compound annual growth rate (CAGR) of 16.3% between now and 2027.[i]
This projected growth will mean the market will more than triple from its current size of $2.077 billion to more than $6.8 billion by 2027.
As new research continues to emerge about the efficacy of psilocybin and other psychedelics, investors are seeing a number of companies emerge in an attempt to establish an early leadership position in the space.
But as these companies jockey for position, it's important to look closely at what each "mushroom stock" brings to the table for potential investors.
Many up-and-coming companies may have strong financial backing – or aggressive business plans – but lack one critical element: intellectual property.
That's where SILO Pharma appears to have a distinct advantage.
What makes SILO Pharma (OTC: SILO) unique is that, while involved in psilocybin research, it is quite different from the "typical" psilocybin companies you've likely heard so much about.
That's because SILO Pharma is bringing the approach of a more traditional biotech company and incorporating the benefits of psychedelics as part of its research.
The company's stated mission is to identify assets and fund research which it believes will be transformative to the well-being of patients and the healthcare industry…and it appears to be well on the way to making that a reality with its primary asset.
SILO Pharma's Primary Asset Has Extraordinary Potential
In March of this year, SILO Pharma (OTC: SILO) announced that it had entered an exclusive option agreement with the University of Maryland, Baltimore to explore a novel invention known as "joint-homing peptides for use in the investigation and treatment of arthritogenic processes."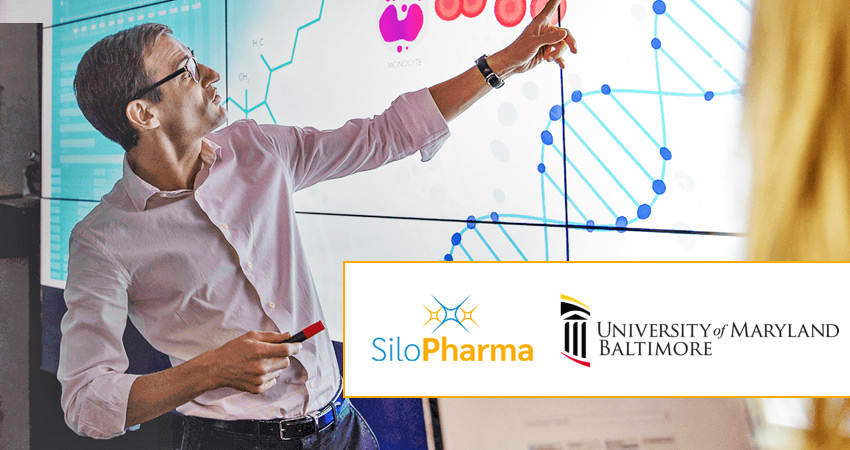 In layman's terms, what this means is that the company is aiming to prove the efficacy of its patented drug delivery platform
These joint-homing peptides have the potential to allow for targeted drug delivery to diseased joints.
This potentially game-changing drug delivery platform may be used to treat autoimmune diseases such as Rheumatoid Arthritis – a condition that afflicts 52.5 million adults in the U.S. and costs about $19.3 billion a year to treat.[ii]
This approach – should it prove successful – could enhance the therapeutic effect of current and future therapies and decrease potential systemic toxicity associated with the drug being administered.
In effect, this breakthrough could drastically increase the efficacy of treatment for certain conditions while reducing the amount of medication required.
SILO Pharma's Peptide-Guided Drug Delivery is Also Being Studied for the Treatment of Multiple Sclerosis
According to the National Multiple Sclerosis Society, an estimated one million people live with MS in the United States.[iii]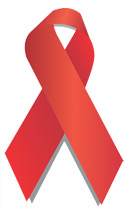 Silo Pharma (OTC: SILO) is seeking to develop treatments, including the use of targeted drug delivery to the Central Nervous System (CNS) as a means of overcoming many of the limitations of current therapies.
In January 2021, the company announced that it had entered into a sponsored research agreement with the University of Maryland, Baltimore relating to a study to examine a novel peptide-guided drug delivery approach for the treatment of multiple sclerosis.
And in February 2021, SILO Pharma announced that it was licensing an innovative Central nervous-system homing peptides for treatment of multiple sclerosis and other neuroinflammatory pathology, signing a Master License Agreement with the University of Maryland, Baltimore.
Researchers at the University discovered this novel peptide and have completed preclinical studies supporting its efficacy.
This novel drug delivery approach could help unleash the full potential of the many benefits that psilocybin can offer those who suffer from neurological disorders.
In supervised early lab studies, psychedelic drugs like psilocybin, ketamine and LSD have been shown to produce neurological responses that could help treat many serious conditions including depression, addiction, Alzheimer's, PTSD and obsessive-compulsive disorder.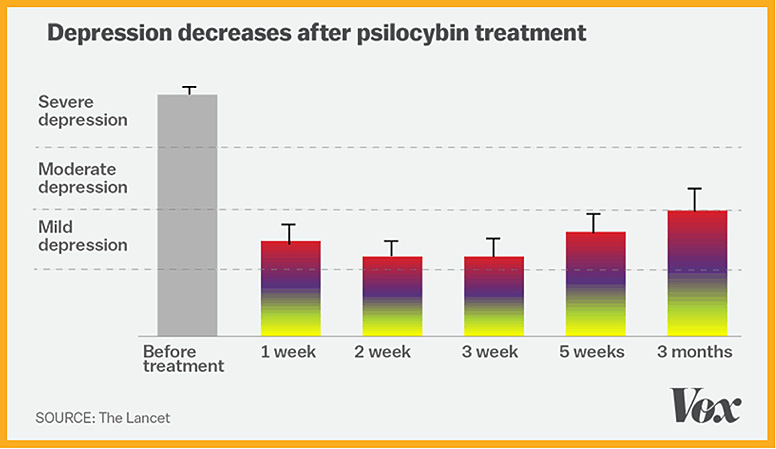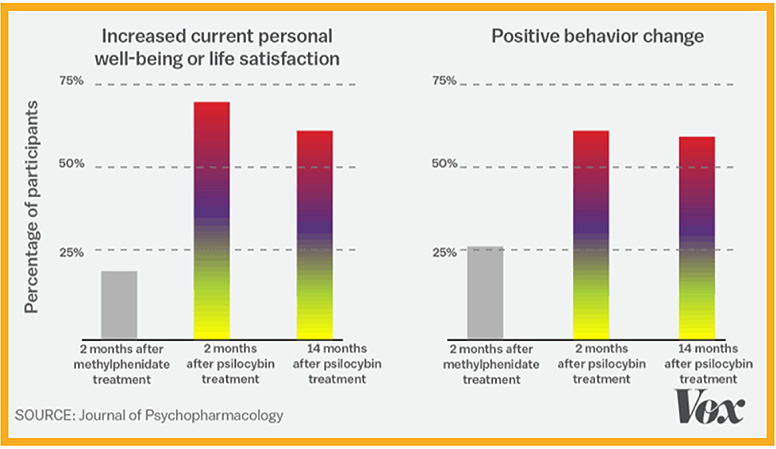 And in April 2021, SILO Pharma announced that it had finalized an agreement to sublicense the technology behind the company's novel and proprietary central nervous system homing peptides for use in the therapeutic treatment of pain from neuroinflammation in cancer patients.
This sublicense gives SILO Pharma access to a broader team of industry participants working to explore and expand the use of its novel peptides in the hopes of delivering relief for patients suffering from debilitating afflictions, such as cancer.
How SILO Pharma's Drug Delivery Platform Could Cause Massive Changes to How Diseases Are Treated
Research has clearly shown that psychedelics – such as psilocybin – can offer significant benefits to those suffering from a number of disorders.
But to date, the issue has been developing a psychedelic-based solution for these sufferers that was both practical and effective.
Thanks to the potential of SILO Pharma's unique drug delivery platform – developed in conjunction with university research – we could be on the verge of a significant breakthrough in treatment.
SILO Pharma's assets and research could be transformative to the well-being of patients worldwide…and disruptive to the healthcare industry as a whole.
That alone sets Silo Pharma (OTC: SILO) apart from others in both the psychedelic and biopharma arenas.
The research and development – based on the company's unique homing peptide – could not only prove to be effective in the delivery of psychedelics…but also in delivery of traditional medication.
That type of potential is deserving of attention from investors…but it's also more difficult to project.
A potential comparable stock that has demonstrated the potential for this company's upside, however, does exist in the cannabis space.
Following GW Pharma's Blueprint for Upside Potential
GW Pharmaceuticals (Nasdaq: GWPH) currently has the only drug made from cannabis that has been approved for use by the Food and Drug Administration.
Just three years ago – in 2018 – the FDA approved GW Pharmaceuticals' drug Epidiolex for the treatment of seizures resulting from early-onset epilepsy.[iv]
In 2020, Epidiolex generated $510.5 million in revenue – an increase of 70% over the drug's 2019 figure.[v]
By going above and beyond what many cannabis companies were doing – combining cannabis with additional research and technology – GW Pharma was able to get a drug approved by the FDA…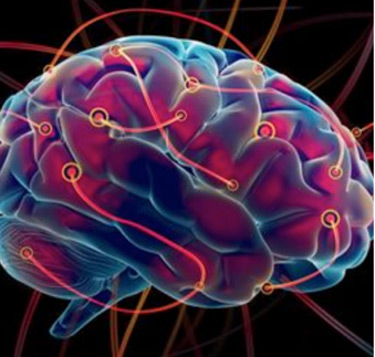 And ultimately that helped lead to the company being purchased by Jazz Pharmaceuticals in February of this year for a whopping $7.2 billion.
That very same blueprint – only with psilocybin instead of cannabis – is precisely what Silo Pharma (OTC: SILO) is now following.
The company is combining the powerful healing benefits of psilocybin with its own unique drug delivery system in the hopes of developing a true game-changer that could ultimately prove disruptive to the entire healthcare industry.
In terms of potential approval for a psilocybin treatment, the FDA authorized Breakthrough Therapy Designation for Compass Pathways Ltd. psilocybin therapy for depression in 2018.
Johnson and Johnson's (JNJ) ketamine derived nasal spray (Spravato) was approved in March 2019 for treatment-resistant depression.
And we're seeing an increase in decriminalization of psilocybin throughout North America, including in major cities such as Denver, Oakland and Santa Cruz.
This potentially bodes well for companies like Silo Pharma (OTC: SILO) that are working to bring revolutionary new treatments to market.
And Silo Pharma is being led in this pursuit by an experienced team of business builders and researchers poised to make the company's dream a reality.
Silo Pharma's is Led by an Experienced Management Team and an Impressive Group of Scientific Advisors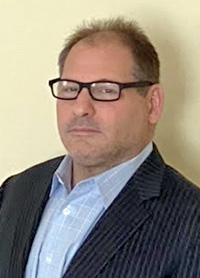 CEO Eric Weisblum has over 20 years investing, building and managing businesses and will lead a scientific advisory board of reputable medical professionals to work and guide the company through the different stages of research, licensing, partnerships and trials.
Prior, Mr. Weisblum was President of Sableridge Capital for five years. Eric currently serves on the board of directors of Aikido Pharma., a Nasdaq listed biotech company focused on the commercialization of oncology therapeutics. In addition to being an active investor in both public and private companies, Mr. Weisblum has provided managerial assistance and guidance to help companies execute on their business strategy.
Director Wayne Linsley has been an entrepreneur for over 40 years. In 1979, he received a Bachelor's Degree in Business Administration from Sienna College in Loudonville, New York.
He has since been involved with real estate brokerage and residential development, construction, finance, telecommunications. Since 2009 he has worked for and is currently a Vice President for CFO Oncall, Inc., a financial reporting firm that works with publicly traded companies.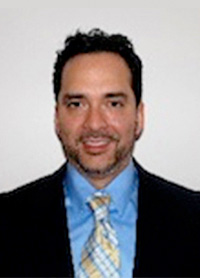 Director Kevin Munoz, MD, currently serves as Director of Operations at Physical Medicine and Rehabilitation where he has responsibility for the day-to-day management of all office operations with a focus on ensuring and increasing patient satisfaction. Prior to that, he led the configuration efforts during an enterprise-wide implementation of application software that also included streamlining and improving business processes.

1) Double Play Investment Opportunity – Unlike many companies generating attention in the psychedelic space, SILO Pharma (OTC: SILO) is focused on developing potential breakthroughs by combining traditional therapeutics with the power of psychedelic research.
2) Rapidly Growing Market – The market for psychedelics is projected to grow at a CAGR of 16.3% between now and 2027, when it is expected to reach $6.8 billion.
3) Potential Game-Changing Drug Delivery Platform – SILO Pharma's potentially game-changing drug delivery platform may be used to treat a number of devastating diseases, including Rheumatoid Arthritis and Multiple Sclerosis and is likely to generate considerable attention from larger companies, making for attractive buyout potential.
4) Following a Proven Blueprint for Success – The company is following the same path forged in the cannabis sector by GW Pharma, and is working to combine the powerful healing benefits of psilocybin with its own unique drug delivery system in the hopes of developing a true game-changer that could ultimately prove disruptive to the entire healthcare industry.
5) Proven Leadership Team – Silo Pharma is led by an experienced team of business builders and researchers poised to make the company's dream a reality. This team includes CEO Eric Weisblum, with over 20 years investing, building and managing businesses as well as an impressive scientific advisory board.
[i] https://www.databridgemarketresearch.com/reports/us-psychedelic-drugs-market?pm
[ii] https://www.healthline.com/health-news/rheumatoid-arthritis-heavy-cost-to-patients-economy#The-Full-Costs-of-Rheumatoid-Arthritis
[iii] https://www.nationalmssociety.org/What-is-MS/How-Many-People
[iv] https://www.fda.gov/news-events/press-announcements/fda-approves-first-drug-comprised-active-ingredient-derived-marijuana-treat-rare-severe-forms
[v] https://www.globenewswire.com/news-release/2021/02/16/2175953/0/en/GW-Pharmaceuticals-plc-Reports-Fourth-Quarter-and-Year-End-2020-Financial-Results-and-Operational-Progress.html
[vi] https://www.reuters.com/article/us-gw-pharma-m-a-jazz-pharms/jazz-pharma-to-buy-gw-pharma-for-7-2-billion-adding-cannabis-based-drug-to-portfolio-idUSKBN2A31RM
Disclaimer: This release/advertorial is a commercial advertisement and is for general information purposes only. This is a Native Advertisement, meaning it is an informational paid marketing piece. Wallstreetnation.com, owned and operated by Jade Cabbage Media, LLC d/b/a STOXmedia.com makes no recommendation that the securities of the companies profiled or discussed on this website should be purchased, sold or held by viewers that learn of the profiled companies through our website. Please review all investment decisions with a licensed investment advisor. This Advertorial was paid for by Silo Pharma Inc. in an effort to enhance public awareness of Silo Pharma Inc. and its securities. Jade Cabbage Media, LLC d/b/a STOXmedia.com has received forty five thousand USD dollars (4/11/21) by Silo Pharma Inc. as a total production budget for this advertising effort. Neither Wallstreetnation.com or STOXmedia currently hold the securities of Silo Pharma Inc. and does not currently intend to purchase such securities. This Advertorial contains forward-looking statements that involve risks and uncertainties. This Advertorial contains or incorporates by reference forward-looking statements, including certain information with respect to plans and strategies of the featured Company. As such, any statements contained herein or incorporated herein by reference that are not statements of historical fact may be deemed to be forward-looking statements. Without limiting the foregoing, the words "believe(s)" "anticipate(s)", "plan(s)" "expect(s)" "project(s)" "will" "make" "told" and similar expressions are intended to identify forward-looking statements. There are a number of important factors that could cause actual events or actual results of the Company to differ materially from these indicated by such forward-looking statements. Certain statements contained herein constitute forward-looking statements within the meaning of Section 27A of the Securities Act of 1933 and 21E of the Exchange Act of 1934. Such statements include, without limitation, statements regarding business, financing, business trends, future operating revenues and expenses. There can be no assurance that such expectations will prove to be correct. Investors are cautioned that any forward-looking statements made by the Company or contained in this advertorial are not guarantees of future performance, and that the Issuer's actual results may differ materially from those set forth in the forward-looking statements. Difference in results can be caused by various factors including, but not limited to, the Company's ability to be able to successfully complete planned funding agreements, to successfully market its products in competitive industries or to effectively implement its business plan or strategies. To reiterate, information presented in this advertorial contains "forward-looking statements". Any statements that express or involve discussions with respect to predictions, expectations, beliefs, plans, projections, objectives, goals, assumptions, or future events or performance are not statements of historical fact and may be "forward-looking statements." Forward-looking statements are based on expectations, estimates, and projections at the time the statements are made that involve a number of risks and uncertainties which could cause actual results or events to differ materially from those presently anticipated. Forward-looking statements in this advertorial may be identified through the use of words such as "expects," "will," "anticipates," "estimates," "believes," "may," or by statements indicating certain actions "may," "could," or "might" occur. More information on the Company may be found at www.sec.gov readers can review all public filings by the Company at the SEC's EDGAR page. Jade Cabbage Media, LLC d/b/a STOXmedia.com is not a certified financial analyst or licensed in the securities industry in any manner. The information in this Advertorial is subjective opinion and may not be complete, accurate or current and was paid for, so this could create a conflict of interest.