Capitalize On Three Critical Megatrends with this Unique "Triple Play" Profit Opportunity
Global PoleTrusion Corp. (GPGC) is an under-the-radar company poised to move quickly in the energy, infrastructure and telecommunications markets

This one has the potential to be a fast-mover.
Thanks to the extraordinary upside associated with not one…not two…but three of today's biggest investing megatrends, one little-known company offers the potential for blockbuster success in 2022 and beyond.
That company is Global PoleTrusion Corp. (GPGC), an engineering firm that caters to the needs of telecommunications and utility companies, providing composite poles, towers and renewable energy solutions.
This puts Global PoleTrusion Corp. (GPGC) in the unique position of offering investors significant upside from – and exposure to – three powerful megatrends:

With its advanced engineering and manufacturing capabilities, Global PoleTrusion Corp. (GPGC) is at the forefront of providing creative and effective solutions to address the needs of utility companies around the world.
The company's composite structures outperform their steel, wood and concrete counterparts. They are stronger, lighter, easier to install and environmentally safe.
This gives Global PoleTrusion a huge advantage – and it means that their structures are in high demand across a number of key industries.
Connectivity is a major priority when 60% of the planet does not have internet access…and 1.4 billion people in underdeveloped countries do not have access to electricity.
With such a large sector of the global population needing better, faster and more reliable access…Global PoleTrusion Corp. (GPGC) is in position to deliver much-needed help.
With its advanced engineering, manufacturing, and installation capabilities, Global PoleTrusion is at the forefront of providing creative, effective, state-of-the-art solutions to address these and other issues.
This includes going above and beyond delivering structures to actually delivering energy in a number of markets in desperate need of solutions.
Here's how this unique, forward-thinking company is taking advantages with each of these three megatrends – and why investors should take a few moments to examine Global PoleTrusion's unique upside potential:
This Fast-Moving Global Energy Megatrend is a Specialty of Global PoleTrusion Corp. (GPGC)
When you think of today's most attractive investing opportunities, it's important to look in those areas that are commanding the attention of both the private and public sectors.
This includes megatrends like the efficient delivery of electricity to customers and increasing the overall effectiveness of the power grid.
In developed nations such as the United States, this means rebuilding aging power networks and energy infrastructure so that prolonged outages – like the one experienced by the state of Texas in February 2021 – never happen again.
With experts projecting that the U.S. government will need to spend $1.5 to $2 trillion before 2030 just to maintain the current reliability of service…companies that can deliver efficient solutions figure to be in high demand.
Global PoleTrusion (GPGC), with its safer, lighter, more reliable and more efficient composite poles can play a significant role in the improvement of the U.S. energy grid.
Of course, in developing countries, efficient delivery of electricity to consumers can mean actually building the infrastructure from scratch.
And Global PoleTrusion is well-positioned in these areas as well.
Legislators, regulators and national governments all over the globe are now supporting energy efficiency programs at unprecedented levels.
For example, according to a report compiled by Northeast Group, Central American and Caribbean utilities are expected to invest $3.3 billion in smart grid infrastructure over the next decade to combat inefficiency and theft…and to prepare for the growth of renewable energy sources.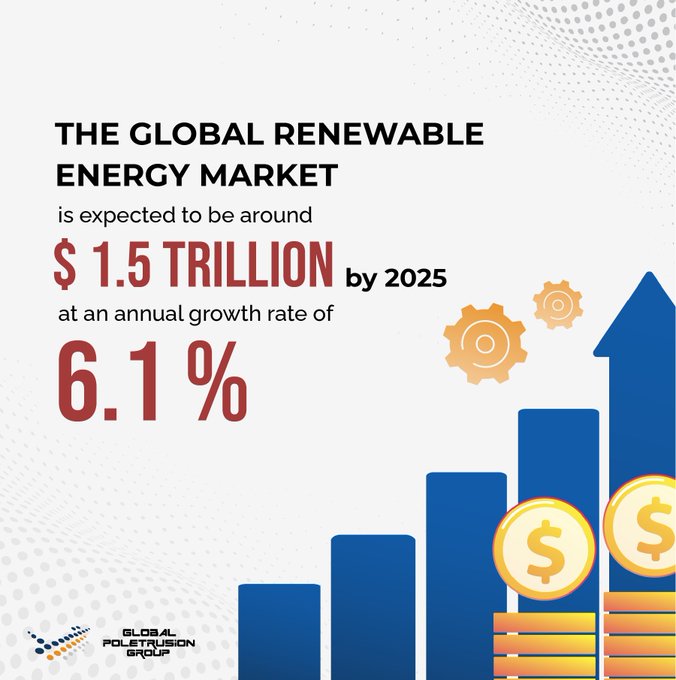 Global PoleTrusion is working to bring renewable energy to Central and South America in a tangible way.
With financing for up to 80Mw (80,000,000 USD) acquired, the buildup will start in the coming months.
And on February 8, 2022, Global PoleTrusion announced a new joint venture partnership with Washington Power with the goal of actualizing 500 megawatts (500,000,000USD) or more of solar energy plants throughout South America, the first 90Mw network construction will start in the coming months
The joint venture intends to begin financing and installing its first projects in Colombia.
In Africa, renewable and electricity networks are projected to account for half of $60 billion in spending over the next 20 years as many nations work to expand availability of reliable electricity to customers.
Kenya, for example, is on the cusp of reaching universal access to electricity, having made notable progress in deploying renewable energy thanks to including private investment as part of the plan.
Global PoleTrusion Corp. (GPGC) is working to be part of the solution in Africa, and is finalizing major low tension and medium tension structures with both the utilities owned by the governments of Kenya and Tanzania for the next five (5) years.
In addition, the company's solar division has 150 hectares of land to build the solar network. The power purchase agreements will be published as the company begins building the network.
U.S. Infrastructure Spending is Ramping Up…and Global PoleTrusion is Perfectly Positioned to Deliver Solutions
The push to rebuild and strengthen the infrastructure of the United States has received a great deal of attention. And now it's about to receive an even greater amount of investment.

Global PoleTrusion Corp. (GPGC) is at the forefront of this megatrend thanks to its composite structures for energy and communications networks that are far superior to their steel, wood and concrete counterparts.
The company's poles and towers are designed and manufactured using a proprietary engineering method and made from Fiber Reinforced Polymer Composites using a unique pultrusion technique.
Pultrusion is a continuous process for manufacturing fiber-reinforced plastics with constant cross-section.
Global PoleTrusion's composite structures outperform their steel, wood and concrete counterparts because they are:
* stronger
* lighter
* easier to install
* and environmentally safe.
And due to the elimination of soil contamination & toxic waste from chemically treated wood poles; recyclable composites, like the ones used by Global PoleTrusion, are becoming the preferred option for utility poles worldwide.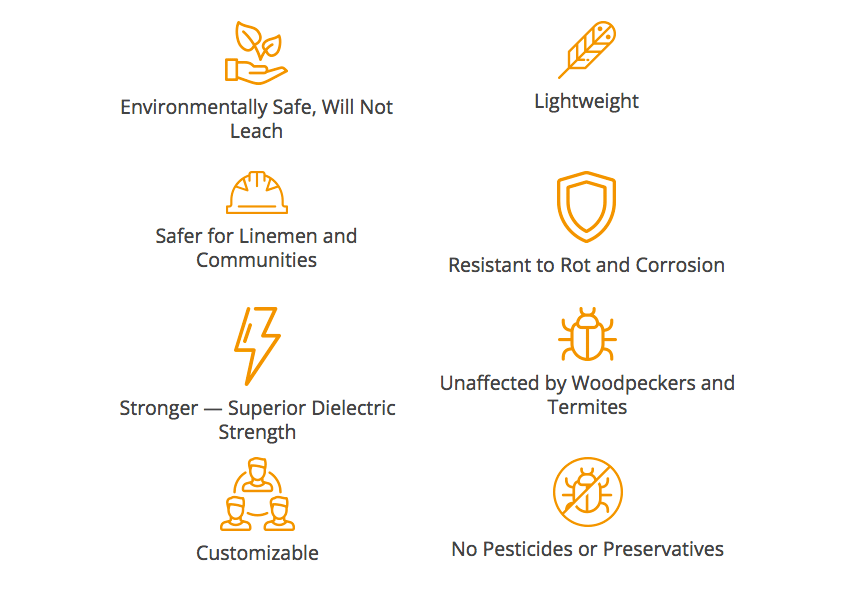 Because of their superiority, these products are already in high demand, with composite poles being a part of a massive network rebuilding project from Florida to Boston – with Global PoleTrusion (GPGC).
The company has started the required representation, having fabrication capability in Ohio. In other words, Global PoleTrusion's "Made in the USA'' products are ready to deliver.
But those agreements are just the tip of the iceberg, with the $1 trillion U.S. infrastructure spending about to commence.
The infrastructure megatrend is still very much in its early stages…and Global PoleTrusion (GPGC) is in an ideal position to potentially deliver millions of dollars' worth of products over the next xx years as a result.
But there's still one additional megatrend that Global PoleTrusion (GPGC) is well-positioned to take advantage of…
Rollout of 5G Technology Provides Additional Opportunity for Global PoleTrusion (GPGC)
Cellular networks are moving quickly to roll out 5G capability…and that requires significant investment.
A big part of this investment is the construction of more cellular bases – including utility poles and light poles – and, once again, Global PoleTrustion (GPGC) is in perfect position to meet these needs.
According to recent estimates, up to 13 million 28 GHz base station utility/light poles will need to be built – at a cost of $400 billion – to bring 100 mbps capability to 72% of the U.S. population and Ggps to 55% of the U.S. population.
With its lightweight, composite structures Global PoleTrusion offers technology companies an ideal solution to assist with this rollout.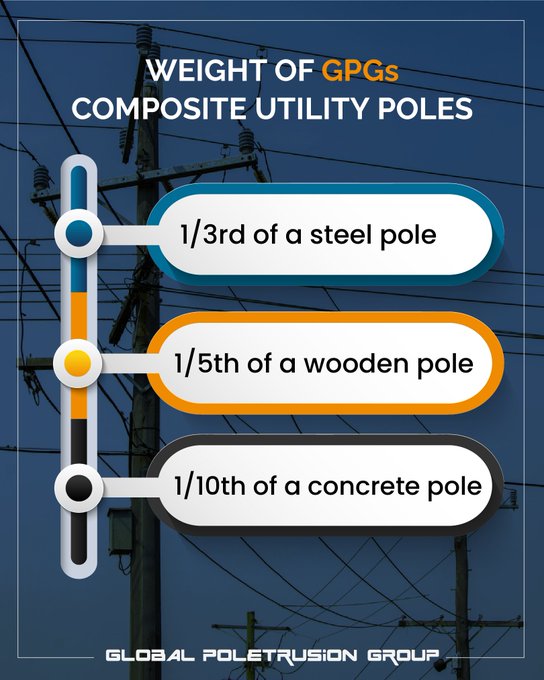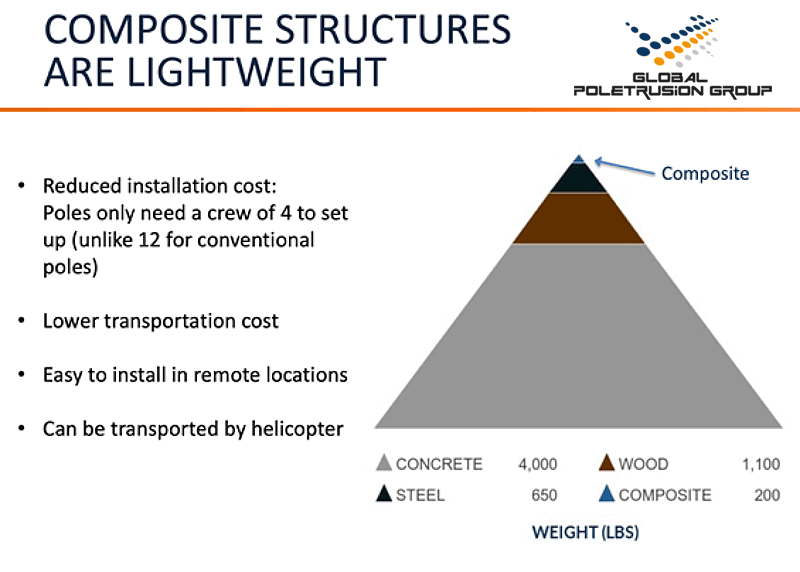 5 Reasons Why Investors Should Consider Global PoleTrusion Corp. (GPGC) Today
Exposure to rapidly growing markets – Global PoleTrusion (GPGC) now offers investors an opportunity to take advantage of three critical megatrends: energy distribution, the infrastructure rebuild and the rollout of 5G technology. Each of these megatrends offers high upside potential on its own; Global PoleTrusion is the only company I know of that offers smart exposure to all three.
Multiple revenue streams – The company has an established business in delivering its composite pole structures all over the globe. But its entry into the renewable energy delivery market opens up significant new revenue streams worthy of investor attention.
Proven technology– Global PoleTrusion's proprietary pole technology has been proven superior to traditional structures. In addition, the company's tech has been accepted as a "mature technology" in Canada…meaning the Canadian government guarantees the company's work.
Superior products – Global PoleTrusion's proprietary technology allows for the manufacturing of composite structures far superior to their steel, wood and concrete counterparts. They are stronger, lighter, easier to install and environmentally safe…making them potentially the most desired product of its kind at a time when infrastructure spending is at an all-time high.
Experienced Management Team – The company is led by CEO Ramiro Guerrero, who has over 30 years of experience working in the field of civil engineering with a special focus on electrical and telecommunications support. Mr. Guerrero has designed and implemented innovative solutions for major corporations such as Telus, Bell, Ericsson, TATA Industries and Hydro-Quebec.
[i] https://www.cnbc.com/2021/11/05/house-passes-bipartisan-infrastructure-bill-sends-it-to-biden.html
Disclaimer: This release/advertorial is a commercial advertisement and is for general information purposes only. This is a Native Advertisement, meaning it is an informational paid marketing piece. Wallstreetnation.com, owned and operated by Jade Cabbage Media, LLC d/b/a STOXmedia.com makes no recommendation that the securities of the companies profiled or discussed on this website should be purchased, sold or held by viewers that learn of the profiled companies through our website. Please review all investment decisions with a licensed investment advisor. This Advertorial was paid for by Purple Serious, Inc. in an effort to enhance public awareness of Global PoleTrusion Group Corp. and its securities. Jade Cabbage Media, LLC d/b/a STOXmedia.com has received thirty thousand USD dollars (2/8/22) by Purple Serious, Inc. as a total production budget for this advertising effort. Neither Wallstreetnation.com or STOXmedia currently hold the securities of Global PoleTrusion Group Corp.  and does not currently intend to purchase such securities. This Advertorial contains forward-looking statements that involve risks and uncertainties. This Advertorial contains or incorporates by reference forward-looking statements, including certain information with respect to plans and strategies of the featured Company. As such, any statements contained herein or incorporated herein by reference that are not statements of historical fact may be deemed to be forward-looking statements. Without limiting the foregoing, the words "believe(s)" "anticipate(s)", "plan(s)" "expect(s)" "project(s)" "will" "make" "told" and similar expressions are intended to identify forward-looking statements. There are a number of important factors that could cause actual events or actual results of the Company to differ materially from these indicated by such forward-looking statements. Certain statements contained herein constitute forward-looking statements within the meaning of Section 27A of the Securities Act of 1933 and 21E of the Exchange Act of 1934. Such statements include, without limitation, statements regarding business, financing, business trends, future operating revenues and expenses. There can be no assurance that such expectations will prove to be correct. Investors are cautioned that any forward-looking statements made by the Company or contained in this advertorial are not guarantees of future performance, and that the Issuer's actual results may differ materially from those set forth in the forward-looking statements. Difference in results can be caused by various factors including, but not limited to, the Company's ability to be able to successfully complete planned funding agreements, to successfully market its products in competitive industries or to effectively implement its business plan or strategies. To reiterate, information presented in this advertorial contains "forward-looking statements". Any statements that express or involve discussions with respect to predictions, expectations, beliefs, plans, projections, objectives, goals, assumptions, or future events or performance are not statements of historical fact and may be "forward-looking statements." Forward-looking statements are based on expectations, estimates, and projections at the time the statements are made that involve a number of risks and uncertainties which could cause actual results or events to differ materially from those presently anticipated. Forward-looking statements in this advertorial may be identified through the use of words such as "expects," "will," "anticipates," "estimates," "believes," "may," or by statements indicating certain actions "may," "could," or "might" occur. More information on the Company may be found at www.sec.gov readers can review all public filings by the Company at the SEC's EDGAR page. Jade Cabbage Media, LLC d/b/a STOXmedia.com is not a certified financial analyst or licensed in the securities industry in any manner. The information in this Advertorial is subjective opinion and may not be complete, accurate or current and was paid for, so this could create a conflict of interest.