Shannon Doherty Shaves Her Head On Camera
Former Beverly Hills 90210 star Shannon Doherty just posted several pictures to her Instagram of her shaving her head. The pictures, which she captioned"Step 1″ through "Step 6", are a look into the star's open battle with breast cancer.
It was only last August that Doherty announced her breast cancer diagnosis. She had sued her former management team, claiming that the likely chemotherapy and mastectomy could have potentially been avoided if her health insurance coverage had been kept up to date.
In the fling, it was alleged that "in Nov. 2013, SAG sent the premium invoice to management firm Tanner Mainstain for Plaintiff's medical insurance coverage for the year 2014. However, Defendants ignored it, failed to pay it (without informing Plaintiff) and then promptly terminated their relationship with [Doherty] effective Feb. 7, 2014."
In the first photo posted to Instagram, Doherty is shown sitting down and receiving a hug. I can only imagine how important this hug must have felt right before having to chop off all of her hair. In the picture she appears sad, understandably so, but starts to slowly smile as the process continues.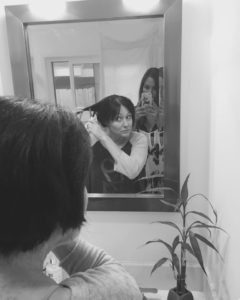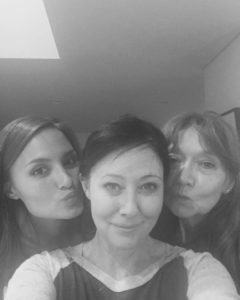 Back in February, Doherty appeared on the Dr. Oz Show. Dr. Mehmet Oz told ET following his interview with Doherty. "The part of Shannen's story that's most stunning to me is that she's had that cancer in her breast for over a year and hasn't had it taken out yet – [the] cancer's still in there."
Doherty had the choice between a mastectomy and a lumpectomy to remove her cancer. "Ultimately, they're just breasts right?" she remarked. "I mean, I love them, they're mine, they're beautiful, but in the grand scheme of things, I would rather be alive and I would rather grow old with my husband."
Dr. Oz had commented, "Thankfully, if we aggressively can treat it, we can save Shannen's life, and her doctors are superb and they're all over that decision."