Say Yes To The Dress Will Feature A Transexual Bride
Another score for the LGBQT community for gaining acceptance in the media.
Popular wedding dress shopping show Say Yes To The Dress, which airs on TLC, will show a transgender bride on an upcoming episode.
The bride, who's name is Gabrielle Gibson, says she's "humbled" after starring in the episode.
Gibson became engaged in August 2016 to her boyfriend of three years. The transgender hairstylist from New Jersey, was dress shopping at Kleinfeld's in New York, the store that is featured on the hit reality show. She only found out that day that they were filming.
"I'm six-foot-one and I love to wear five-inch heels — my fiancé is five-foot-four — so I was a little worried about finding a dress with the right length," said Gibson, 33, to Yahoo Style.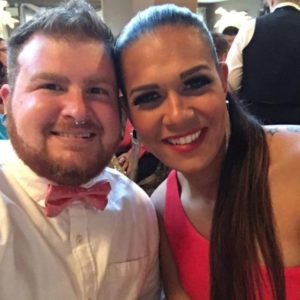 "After booking my appointment at the store, I was informed that the show was filming that day, so I decided to audition."
She got the green light and became the first transgender bride of the New York edition of the show.
If you've never seen the show before, it features brides who are searching for their dream dress at the Kleinfeld's store as staff helps them in and out of possible choices.
Gibson told Pink News, "with everything going on in the media surrounding violence towards trans women of color, I wanted to show that we are people who just want to live and be happy."
Gibson and her fiance Jaden Rogers have their wedding date on November 5th.
Her episode will air on the TLC network on March 25th.