New Kids On The Block Member Did A Super Nice Thing At Waffle House
Donnie Wahlberg loves waffles and it looks like he loves the people who serve them to him just as much.
The New Kids on The Block singer who now acts in the "Blue Bloods' was at a Waffle House in Edgewater, MD while on tour with other New Kids on the Block band mates. On a $62.75 bill, Wahlberg left a $500 tip.
Waffle House employees, Tyler Spangler and Angi Silen were the two servers to celebrate their big tip that night and even got a photo with Donnie.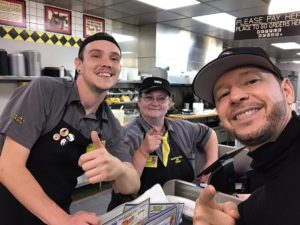 Walhberg even put the photo on his Twitter and captioned it with, "Great crew @WaffleHouse in Edgewater MD! Thanks for the awesome service! Night made! #WaffleHouse!"