Mila Kunis: I Don't Wear Makeup
One of the latest trends among celerity females has been posting make up free shots on their Instagrams.
Mila Kunis is the latest celebrity to comment on make up after posing for the August cover of Glamour magazine. She didn't have any make up on in the shoot aside from skin serum, eye cream, and some lip balm.
Kunis described the look as just being herself.
"I don't wear makeup. I don't wash my hair every day. It's not something that I associate with myself," she told the magazine. "I commend women who wake up 30, 40 minutes early to put on eyeliner. I think it's ­beautiful. I'm just not that person."
Here's her Glamour shot: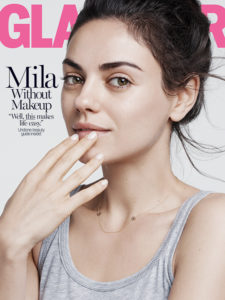 If many women could look as good as Mila without any make up, make up companies would go bankrupt.