Make Up Artist Sheds 200 Pounds in Under A Year
New Zealand make-up-artist Simone Anderson went on an incredible weight loss journey losing 200 pounds in under twelve months.
She documented the entire thing on Instagram in hopes of inspiring other people to make their own changes.
Anderson can't credit her transformation to just dieting and exercise alone. On Oct. 29, 2014, she underwent gastric-sleeve surgery which helped her shed a total of 202 pounds off of her 375 lb. former frame.
"I had no pressing health issues, but it was getting harder and harder to do day-to-day things," she told news.com.au of the decision to kick-start her weight loss.
"Even bringing in the garbage can up our very steep driveway was difficult, and that's when it hit me that something needed to change."
Since starting her Instagram, Simone has gathered more than 136,000 followers and shares not only health and fitness tips but regularly gives inspiring words of encouragement.
As for loose skin? Yes, you guessed it. She had plenty of it.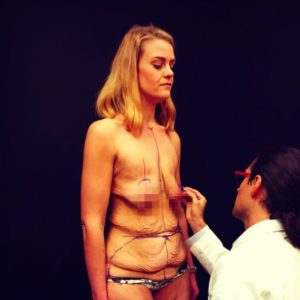 In late 2015, Simone went under a 9 hour operation to remove all the loose skin as doctors explained that no amount of diet or exercise would remove it.
"My body is so, so amazing, I couldn't be happier," she remarks today.
Anderson has certainly proved that if there is a will then there is a way.