Kim Kardashian Just Made A Huge Change To Her Hair
Kim Kardashian's has had some long hair for awhile now. The reality star was channeling Cleopatra for months with long black straight hair.
The 36 year old decided to change her look and debuted a brand new hair style this week.
Kim cut her long mane into a shoulder length cut and showed it off on the way to lunch in Beverly Hills.
She was seen wearing a tight black strapless bustier with high wasted skinny jeans and snakeskin heels.
What do you think of her new do?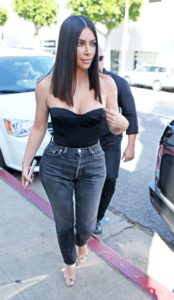 Recently Kim was seen on Keeping Up With The Kardashians discussing that she wants a third child and possibly getting surgery on her uterus so that she can get pregnant again.
"I have to go in and prepare my uterus because I decided I want to try and have one more baby," Kardashian revealed.
"This surgery is really the one last thing I can try," she adds. "I want my kids to have siblings, and I want to know that I did everything I could to make this happen."