This Cute Couple Have Been Matching Outfits For 37 Years
A Japanese couple behind the Instagram account @BonPon511 have proven that even as you age, there is no excuse for not being fashionable.
The couple, married since 1980, have been coordinating their outfits since. Now in their sixties, the couple is giving many of us younger folk relationship goals.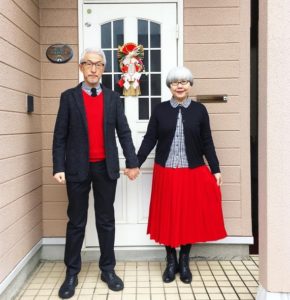 Their cute matching attire has gained them over 100,000 Instagram followers. Months ago they only had 10,000 followers.
Outfits include plaid, stripes, and pop colors but in a subtle manner. The couple often follows the same color scheme or wears the same fabric print.