Apple Just Made A Very Big Move In California
Apple is now the latest company on California's list of companies allowed to test autonomous vehicles in the state.
Called Project Titan, Apple has been focused on building a self-driving car and despite being secretive about it, more and more information has been revealed about it.
The project has been going on for several years, but Apple has never formally acknowledged it. Rumors even surfaced that the company has let go of the idea of building the vehicle and is instead developing self-driving software that can be deployed in partnership with carmakers.
In 2016, Apple submitted a letter to the National Highway Traffic Safety Administration, a letter that stated that the company was "investing heavily in the study of machine learning and automation, and is excited about the potential of automated systems in many areas, including transportation."
Despite signing up for the permit in California, it doesn't mean it will be used. Many companies sign up for a permit just to report that no mile were driven.
California's list of companies interesting in self-driving cars has been growing. General Motors and Uber as well as Google's spinoff Waymo is on the list.
As of April 14th, 2017, these are the companies that the Golden State has issued Autonomous Vehicle Testing Permits to: (curtesy of Twitter user @kifleswing)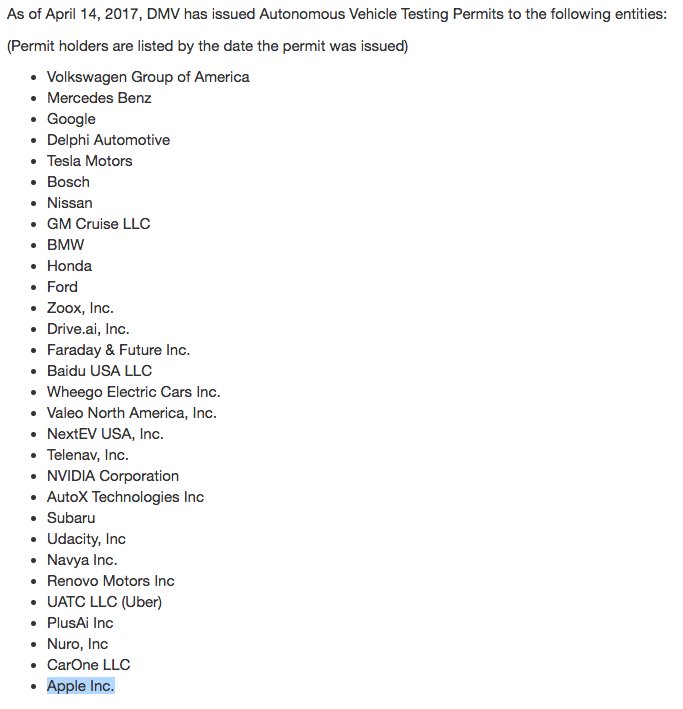 As part of California's program, companies are required to report their disengagement rates to the DMV, which then makes those numbers public.
If Apple does anything, we will surely find out about!
An Apple spokesperson declined to comment to the Wall Street Journal about the permit.
Disclaimer: We have no position in Apple Inc. (NASDAQ: AAPL) and have not been compensated for this article.