Trade Alert:

Major Past Producing U.S. Gold Mine – "Frozen in Time" for 60 Years!
It's like something straight from a blockbuster Hollywood movie.
A major producing gold mine – once the 2nd largest gold producer in the United States in 1941 – has been effectively "frozen in time" for more than half a century.

And now this major, high-grade past-producing gold mine – shut down by the U.S. government just as it was achieving its full potential – is ready to be brought back to life…using modern technology and more efficient mining techniques.
Right now one little-known exploration company – Rise Gold Corp. (CSE: RISE; OTC: RYES) – is the sole owner of this high-grade gold mine that was producing up to 129,000 ounces of gold per year before the U.S. government forced the mine to shut down in 1942.
For much of the last 60 years, this mine – the Idaho-Maryland gold mine – has been virtually ignored.
But now Rise Gold Corp. (CSE: RISE; OTC: RYES) has acquired this significant gold property in the Grass Valley-Nevada City District in Nevada County, California.
While other great U.S. gold deposits have been discovered – and mined out – over the last 60 years, the Idaho-Maryland gold mine has been frozen in time…waiting for someone to come along and explore the high-grade gold mineralization trapped below.
Early investors in Rise Gold Corp. (CSE: RISE; OTC: RYES) could see fast-moving, explosive gains as drill results are announced from this titanic historic past producing mine.
Breaking News (June 1st, 2017) Update:
Rise Gold Corp. announced the completion and results from its study of historic mine workings and geology at the Idaho-Maryland mine. The report identifies numerous exploration targets in and around the historic Idaho-Maryland mine workings which warrant a significant drill program.
Reawakened After 60 Years…A Great Gold Mine That Was Shut Down Just as it Was Reaching its Full Potential
The story of the Idaho-Maryland gold mine truly resembles a Hollywood movie script.
Gold was discovered on this property way back in 1851 – and 935,000 ounces of gold were produced on the site prior to 1901 from a single continuous vein.
The Idaho mine had been considered in the early 20th century to be "mined out" but in the late 1920s a brilliant mine engineer named Errol MacBoyle – the grandson of an original "Miner 49er" – discovered a new vein.
This life-changing discovery for MacBoyle proved to be the catalyst for huge growth in production in the 1930s and into the early 1940s and brought huge wealth to the shareholders and the community.
Errol MacBoyle
From 1936 to 1941 the Idaho-Maryland mine produced from 95,000 to 129,000 ounces of gold per year…and rose to become the 2nd largest gold producer in the United States.
And then – just like that – it was all over.
In 1942, the U.S. government ordered all gold mines in the USA – including Idaho-Maryland – to shut down as the country focused its energies on World War II.
Up until 1942, the historic mining company continued to make new discoveries – but because of the forced closing, virtually none of these discoveries have ever been followed up.
This was a massive operation — one that had produced a total of 2.4 million ounces of gold at a significantly high grade.
Before the mine was shut down, the company was planning on DOUBLING production because of how much gold there was left to mine.
But the U.S. government — and the nation's entry into World War II — put all those plans on hold. And as it turned out…that "pause" lasted more than six decades.
Now here's the thing: You only make plans to double production if there's enough gold in the ground to make it worthwhile.
Not only are we dealing with a deposit that has remain virtually untouched for all these years…we're also dealing with a much higher gold price that makes the value of the metal in the ground much, much higher.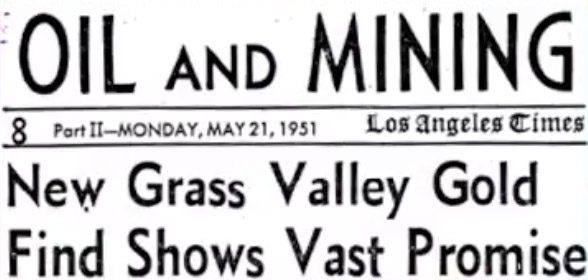 Errol MacBoyle – who had become the President and General Manager – suffered a stroke in 1943 and was incapacitated until his death in 1949.
Although the mine was restarted in 1944 – at limited capacity – massive inflation after the war pushed production costs sharply higher…and the fixed price of gold at $35/oz made gold production unprofitable.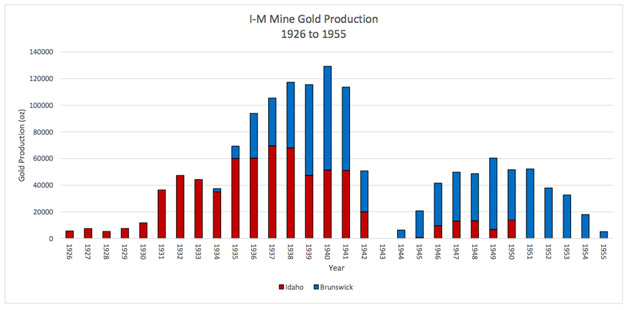 In total the Idaho Maryland Mine produced 2,414,000oz of gold throughout its history. What had once been the 2nd-largest producing gold mine in the United States was virtually abandoned.
Until now.
Rise Gold Corp. (CSE: RISE; OTC: RYES) now stands poised to move forward on a number of exploration targets with the goal of realizing the true potential of the Idaho-Maryland mine.
By using modern drilling techniques – allowing for cost-effective exploration – Rise Gold Corp. can begin quickly with drill-ready targets to begin producing immediate results.
The Timing is Perfect:
Gold Prices are Poised to Soar Sharply Higher
The timing for Rise Gold Corp. (CSE: RISE; OTC: RYES) could not be any better.
Experts are projecting that the global geopolitical uncertainty will continue to push gold prices higher through the rest of 2017.
That provides a favorable environment for Rise Gold Corp. (CSE: RISE, OTC: RYES) as they work to "bring back" the Idaho-Maryland gold mine.
"Gold often does well during times of turmoil. So is it any surprise that the price of the yellow metal is up 13% this year and approaching $1,300 an ounce?"
"Gold trades near 3-week high after deadly Manchester terror attack"
In addition, increases in gold holdings by exchange traded funds (ETFs) – which soared 34% in 2016 and are projected to increase again in 2017 – will continue pushing the yellow metal higher.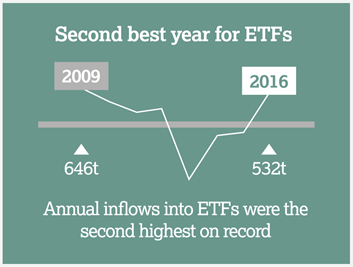 This combination of market volatility and increased demand is the perfect recipe for a surge in gold prices…and has forward-thinking investors searching for the best way to take advantage of this trend.
Rise Gold Corp. (CSE: RISE, OTC: RYES) right now offers the potential of a large, high-grade historic past producing mine – with 100% ownership – in the historically productive Grass Valley, California region.
An Experienced Management Team…
With a History of Delivering Success!
Without question, one of the most important factors when considering the potential for any exploration company is the quality of its management.
Specifically, have the company's leaders shown an ability to strike gold?  Do they have a proven track record of success?
Rise Gold Corp (CSE: RISE; OTC: RYES) management team boasts tremendous experience in the industry…and, most importantly, they have proven their ability to hit.
Alan Edwards — Chairman of the Board of Directors
Experienced executive and Mining Engineer with over 35 years of experience. Amongst Mr. Edwards many accomplishments his previous experience includes: Senior Vice Present Operations for Freeport Indonesia responsible for the leadership of a workforce of over 6,000 employees, V.P. Operations for Kinross Gold, Chairman of Aurico Gold culminating in US$1.5B merger with Alamos Gold.
Benjamin Mossman — President, Director and CEO
Mr. Mossman is a mining engineer with over 15 years of experience in the mining industry including experience in capital markets, project evaluation, acquisitions, mine operations, and development. Mr. Mossman has worked at eight producing underground mines with production rates ranging from 250tpd to 3,000tpd. Previously, as CEO, he lead the exploration, permitting, financing, construction, and operation of a profitable gold mine in British Columbia which was one of the only hard rock metal mines in the world to use pre-concentration (DMS) to eliminate all surface disposal of tailings.
Thomas Vehrs — Director
A highly regarded and experienced Geologist with over 40 years of experience in the Americas. Recently retired as Vice President Exploration for Fortuna Silver Mines. Mr. Vehrs has managed numerous exploration programs resulting in the discovery and delineation of at least three major discoveries including the Rio Blanco Mine in Northern Peru.
John Anderson — Director
An experienced financier with over 15 years of experience in the capital markets. Throughout his career, Mr. Anderson has raised in excess of $500 million in equity for a number of private and public companies in the United States, Canada, and Europe.
Cale Thomas — CFO, Secretary, and Director
Mr. Thomas was formerly the CFO and Director for Eagle Hills Exploration Corp and he holds an MBA from McMaster University.
Keep a Close Eye on this Fast-Moving Gold Opportunity
Shares of Rise Gold Corp. (CSE: RISE; OTC: RYES) are right now trading for less than 30 cents per share.
But the company's ongoing exploration of the potential high-grade gold in the ground means that an increase in share price could happen as the market becomes aware of this little-known company.
5 Reasons Why YOU Should Consider Adding Rise Gold Corp. (CSE: Rise; OTC: RYES) To Your Portfolio Today
1.

Gold prices are heading higher in 2017 thanks to increased demand and ongoing geopolitical uncertainty.

2.

Rise Gold Corp. (CSE: RISE; OTC: RYES)

is the sole owner of the Idaho-Maryland gold mine in the Grass Valley region of California…a mine that was once the nation's 2nd-largest gold producer in 1941.

3.

After being "frozen in time" for over 60 years, this historic high-grade producer – once responsible for up to 129,000 ounces of gold per year – could soon be brought back to life using modern drilling techniques and exploration technology.

4.

Rise Gold Corp's management team has a proven history of success in North America…and they also bring a unique expertise in the M&A field.

5.

The mine produced a total of 2.4m ounces at a significantly high grade of over 1 ounce per tonne…Before it's shut down they were planning on doubling production because of how much gold was still left to mine there. Market recognition of the value of the project and future drilling results could be the catalyst for substantial growth!
Investors should consider Rise Gold Corp. (CSE: RISE; OTC: RYES). The potential for a continued increase in gold prices combined with a "once-in-a-lifetime" gold property that was frozen in time for 60 years provides a compelling opportunity.
Disclaimer:
This release/advertorial is a commercial advertisement and is for general information purposes only. This is a Native Advertisement, meaning it is an informational paid marketing piece. Wallstreetnation.com makes no recommendation that the securities of the companies profiled or discussed on this website should be purchased, sold or held by viewers that learn of the profiled companies through our website. Please review all investment decisions with a licensed investment advisor. This Advertorial was paid for the issuer, Rise Gold Corp. in an effort to enhance public awareness of Rise Gold Corp and its securities. Winning Media has or expects to receive three hundred thousand dollars by the issuer, Rise Gold Corp. for this advertising effort. Neither WallStreetNation nor Winning Media currently holds the securities of Rise Gold Corp and does not currently intend to purchase such securities. This Advertorial contains forward-looking statements that involve risks and uncertainties. This Advertorial contains or incorporates by reference forward-looking statements, including certain information with respect to plans and strategies of the featured Company. As such, any statements contained herein or incorporated herein by reference that are not statements of historical fact may be deemed to be forward-looking statements. Without limiting the foregoing, the words "believe(s)" "anticipate(s)", "plan(s)" "expect(s)" "project(s)" "will" "make" "told" and similar expressions are intended to identify forward-looking statements. There are a number of important factors that could cau se actual events or actual results of the Company to differ materially from these indicated by such forward-looking statements. Certain statements contained herein constitute forward-looking statements within the meaning of Section 27A of the Securities Act of 1933 and 21E of the Exchange Act of 1934. Such statements include, without limitation, statements regarding business, financing, business trends, future operating revenues and expenses. There can be no assurance that such expectations will prove to be correct. Investors are cautioned that any forward-looking statements made by the Company, or contained in this advertorial are not guarantees of future performance, and that the Issuer's actual results may differ materially from those set forth in the forward-looking statements. Difference in results can be caused by various factors including, but not limited to, the Company's ability to be able to successfully complete planned funding agreements, to successfully market its products in competitive industries or to effectively implement its business plan or strategies. To reiterate, information presented in this advertorial contains "forward-looking statements". Any statements that express or involve discussions with respect to predictions, expectations, beliefs, plans, projections, objectives, goals, assumptions, or future events or performance are not statements of historical fact and may be "forward-looking statements." Forward-looking statements are based on expectations, estimates, and projections at the time the statements are made that involve a number of risks and uncertainties which could cause actual results or events to differ materially from those presently anticipated. Forward-looking statements in this advertorial may be identified through the use of words such as "expects," "will," "anticipates," "estimates," "believes," "may," or by statements indicating certain actions "may," "could," or "might" occur. More information on the Company may be found at
www.sec.gov
readers can review all public filings by the Company at the SEC's EDGAR page. Wallstreetnation.com is not a certified financial analyst or licensed in the securities industry in any manner. The information in this Advertorial is subjective opinion and may not be complete, accurate or current and was paid for, so this could create a conflict of interest.