Meet The Alternative Energy Company Working to Change the Way Waste is Processed

(Nasdaq: MNGA)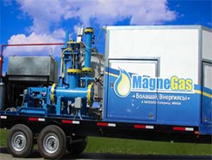 MNGA – PROGRESSIVE GAS TECHNOLOGY
MagneGas Corporation® is a waste to Energy Company that converts liquid waste into a hydrogen based fuel. The Company owns the patents to this progressive technology which gasifies or sterilizes a number of liquid wastes and produces a gaseous fuel known as MagneGas®.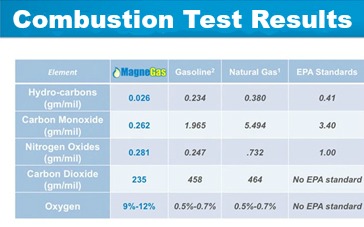 MagneGas® is a cost competitive and clean burning fuel that is essentially interchangeable with Natural Gas, Propane and Acetylene and it can be co-combusted with existing hydrocarbon fuels. MagneGas also has significantly lower greenhouse gas emissions when compared to fossil fuel. The Magnegas® system occupies a small footprint and runs in a sealed, quiet and smoke free system.
MagneGas® can be used for:
Metal Cutting
Transportation Fuel
Co-Combustion with Fossil Fuels
Heating
MagneGas® Recyclers Can Process:
Sewage / Sludge
Agricultural Waste
Leachates
Oil Based Liquids
Industrial Waste Liquids
How does it work?
The patented technology is based on flowing the target liquid waste through their patented submerged electric arc system between two electrodes. The arc decomposes the liquid molecules into atoms as it forms a plasma around the tips of the electrodes at about 10,000°F / 5,500 C. MagneGas® is created as the decomposed atoms rise to the surface and naturally forms into a gas.
MagneGas® is a cost competitive synthetic gas made from many liquid wastes such as sewage, sludge, animal manure, glycerin, used antifreeze, some oil based liquids and waste water.
Check out this Dramatic Gas Stability Video: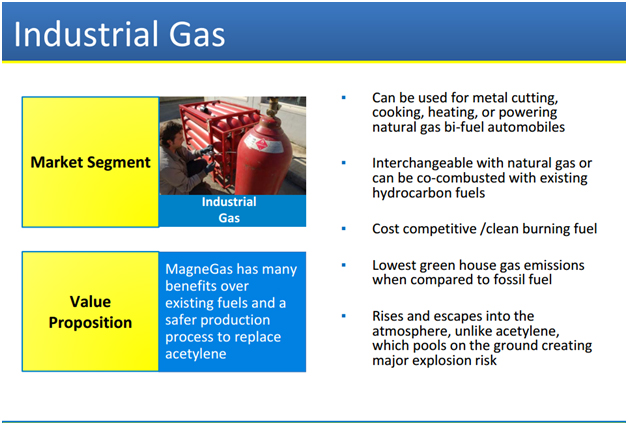 Hot Off The Press:MagneGas Reports 43% Increase in Revenue for the Second Quarter of 2016
Second Quarter 2016 Financial Highlights
Revenue for the three months ended June 30, 2016 increased 43% to $837,257 compared to $584,445 for the same period last year;
Revenue for the six months ended June 30, 2016 increased 33% to $1.5 million compared to $1.1 million for the same period last year;
Gross margins increased 737 basis points to 44% from 36% for the three-month period ending June 30, 2016 versus June 30, 2015;
The Company had an ending cash balance of $3,848,292 on June 30, 2016.
"We are pleased to report a 43% increase in revenue for the three months ending June 30, 2016 versus the same period last year. Our strong growth was due to a combination of equipment sales and an increase in our industrial gas sales. On the domestic front, we signed a lease to open another facility for our ESSI subsidiary, which will be our fourth such location in Florida. In the second quarter, we also added several new distributors, including a major Southeast distributor with over 20 locations in Georgia, Tennessee, Kentucky, Alabama, Virginia, South Carolina and North Carolina. In June, we signed a distribution agreement with Berger Welding Supply of Indiana. Berger will be the preferred distributor for MagneGas2® for metal cutting in their territory and will supply MagneGas2® to a local Fortune 100 company. We now have distribution coverage in many of the major hubs in the eastern half of the United States. We plan to support our continued expansion through both new plant installation as well as joint ventures."
~CEO ErmannoSantilli
Source: http://ir.stockpr.com/magnegas/press-releases/detail/2528/magnegas-reports-43-increase-in-revenue-for-the-second
How MGNA Sets Itself Apart from Competitors using Acetylene
MagneGas 2®, is made of a renewable source and has a higher temperature than propane, acetylene, and the original MagneGas™. Like MagneGas™, MagneGas 2® also cuts faster and cleaner with little to no slag and uses less Oxygen. MagneGas™ can cut 2 inch steel at a rate of 18 inches per minute, 38% faster than Acetylene and 44% faster than Propane.
The Industrial Gas Market and demand is rising. In 2015 the global industrial gases market was worth $47 billion. Demand for these gases is expected to increase the market size at a CAGR 6.2% during 2016-2022. The factors for this increase include industrialization and increased population. [1]
In a recent interview with waste360.com, CFO Luisa Ingargiola talked about the benefits of MagneGas:
"A few of the benefits of MagneGas include better solutions for waste management, water scarcity, renewable energy and industrial safety. Our technology converts waste into reusable energy and products for multiple functions."
"The MagneGas fuel is currently being used by several major utility companies and manufacturing companies. The fuel is being used at a NASA facility for demolition and has been approved for use by the New York Fire Department. In addition, the company has sold its first Gasification system to a gas distribution company in Louisiana, and expects that system to be installed and operational this year."
Global Waste Management Market Analysis, Market Size, Application Analysis, Regional Outlook, Competitive Strategies,and Forecasts, 2015 To 2022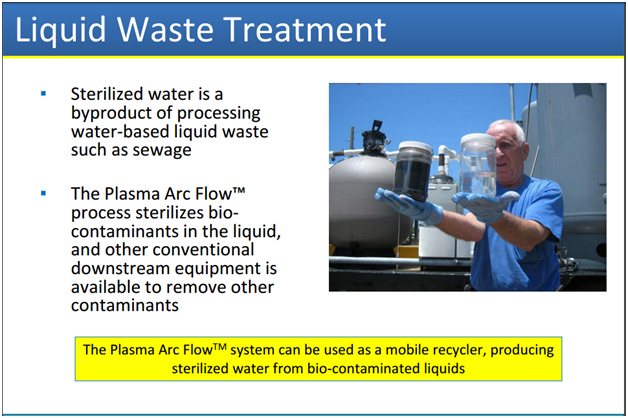 The Global Waste Management market is anticipated to experience massive growth due to increasing waste management concerns worldwide.
Increasing challenges related to wastes, which are not discarded may further drive market growth over the forecast period. Increasing consumer buying power resulting in growing preference for latest products has led to early disposable of usable products further causing increased wastage.
Additionally, increasing pollution owing to rise in amount of wastes not disposed is anticipated to drive market growth. Increasing amount of hazardous wastes emitted by industries from different sectors such as pharmaceutical and healthcare, manufacturing is expected to fuel market growth over the forecast period. [2]
"We are also expanding along the West Coast and internationally. In May we announced that Complete Welding and Cutting Supplies, Inc., with multiple locations in both California and Mexico, will be distributing MagneGas2® and has taken its first fuel orders. As a result of this new distributor relationship, and others already in place, MagneGas2® fuel is now available in most major California metropolitan areas. This is also our first international gas supplier relationship for MagneGas2®. Mexico has grown to be a major manufacturing hub using large amounts of acetylene fuel. We are pleased to offer an alternative that is renewable, cuts faster and has many favorable attributes."
~CEO Ermanno Santilli
The Key To Combustible Growth and Sustainable Solutions: Expansion
As mentioned, MGNA reported a 43% Increase in Revenue for the Second Quarter of 2016.
In addition to that, MGNA announced the Opening of a Facility in a Fourth Location to address the increasing demand for its Unique, Renewable Fuel.
A Fortune 100 Global Auto Company converted their MidWest Factory to MagneGas2 as their Exclusive Metal working fuel
MGNA became an Authorized Distributor for Global Calibration Gases
MGNA received $191,250 After Meeting Benchmark for System Construction
MGNA announced the Grand Opening of a New Central Florida Facility
MGNA raised Up To $10.6 Million in Institutional Financing
MGNA was highlighted in Waste360 Magazine in July for their breakthrough Alternative Fuel
MGNA looks to be in a great position right now and numerous recent developments could lead to strong upside once again. Get started on your research now. 
---
[1] [2]  https://www.psmarketresearch.com/market-analysis/industrial-gases-market