Lithium Demand Growing at an Unstoppable Pace
Lithium-Ion Battery Market Worth $93.1 Billion By 2025. Meet the company taking on the giants. Don't miss this one.
Two recent developments in the lithium market have put the spotlight directly on American lithium project developers:
Lithium demand is soaring thanks to an increase in production of items requiring lithium-ion batteries such as electric vehicles, large stationary storage batteries, laptops and smartphones. With experts foreseeing a substantial growth in lithium at a CAGR of 17.0% in the next decade, the race is on to meet this insane demand.
"Quite simply, there's not enough supply to meet the demand, and the demand is increasing quicker than the supply is. Much, much quicker. Therefore, lithium's price will remain strong."
– Simon Moores, Managing Director at Benchmark Mineral Intelligence.
Executive Order Signed By Trump
As lithium demand rises, President Donald Trump is pushing an America first philosophy when it comes to critical minerals such as lithium. In fact, in December 2017, Trump signed an executive order to reduce dependency on imported critical minerals.
That means companies with U.S. assets like Standard Lithium (OTCQX:STLHF) (TSX.V:SLL) could find themselves in much higher demand in the future.
While the world has an abundance of lithium resources, they are often found in remote and environmentally sensitive locations with next to no infrastructure. Deposits located in jurisdictions burdened with time-consuming permitting challenges, prohibitive royalties or production caps – all posing as expensive obstacles which, thanks to the new executive order, are no longer an issue for lithium deposits located in the U.S.
The company's strategy to consolidate the most promising lithium assets in the U.S. with a clear path to proving up resources, reserves and establishing economic viability is what makes Standard Lithium (OTCQX:STLHF) (TSX.V:SLL) stand out in the crowded field of junior mining companies chasing after lithium.
Standard Lithium (OTCQX:STLHF) (TSX.V:SLL) Named Venture 50 Company
A prestigious honor only bestowed upon ten companies from five industry sectors, the Venture 50 Company award is based on the three criteria that matter most to equity investors:
1. Market capitalization growth
2. Share price appreciation
3. Trading volume
Standard Lithium (OTCQX:STLHF) (TSX.V:SLL) is positioning itself as a major player in a booming market as lithium prices have shot up in the last few years . Lithium prices have risen remarkably since 2016 and are now averaging $13,500 per ton for battery-grade Lithium Carbonate. This only reinforces the current value of the lithium market, and it's no wonder that many are now referring to this critical metal as "white gold."
Chart 1: Annual lithium prices up 45% y.o.y ($/t)
The booming lithium market is fast gaining attention from industry experts and investors alike. Industry heavyweights are taking note of junior mining companies with U.S assets like Standard Lithium (OTCQX:STLHF) (TSX.V:SLL) for their untapped supply potential.
Standard Lithium (OTCQX:STLHF) (TSX.V:SLL) Signs Agreement with Global Specialty Chemical Giant LANXESS to Produce Lithium from Arkansas "Tail Brine"
Standard Lithium (OTCQX:STLHF) (TSX.V:SLL) has signed a binding MoU with the global specialty chemical company, LANXESS (ETR:LXS) (OTC:LNXSF), to allow Standard to prove the commercial viability of lithium extraction and production of battery material utilizing Standard's proprietary rapid lithium extraction technology from brine ("tail brine") that is produced as part of LANXESS's bromine extraction business at its three Southern Arkansas facilities.
The Smackover Formation is responsible for a large part of the 42.6 million cubic meters of brine produced in Arkansas each year.
This means Standard Lithium (OTCQX:STLHF) (TSX.V:SLL) will be able to demonstrate its proprietary lithium extraction technology alongside one of the world's largest brine producers, leveraging existing infrastructure to move towards commercial production must faster than their contemporaries.
Albemarle,the world's largest lithium producer, has a large footprint in Southern Arkansas and has highlighted the region as a "world class" lithium brine resource, and for good reason, Albemarle has made no secret that they have run a lithium extraction pilot plant in Arkansas and announced plans for a commercial plant could produce 20,000 tons LCE per annum.
According to data published by the Arkansas Oil & Gas Commission LANXESS is capable of producing roughly 400 thousand barrels of brine each day at their three Arkansas plants.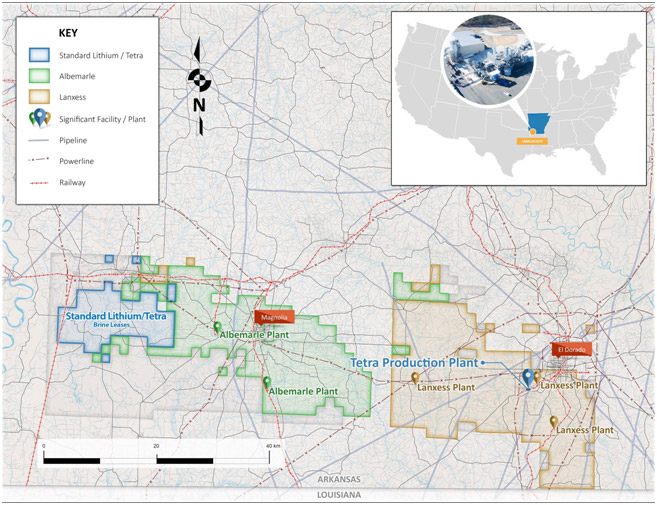 LANXESS land operations in Southern Arkansas encompass more than 150,000 acres, 10,000 brine leases and surface agreements, 250 miles of pipelines, and approximately 70 brine supply and disposal wells. LANXESS extracts the brine from their wells located throughout the area, and the brine is transported to the three Arkansas plants through a network of pipelines. The three bromine extraction plants currently employ approximately 500 people and process and reinject several hundred thousand barrels of brine per day.
Resource Assessment Sampling Already Underway
Standard Lithium (OTCQX:STLHF) (TSX.V:SLL) recently announced the company has begun a sampling program at all active and permitted brine production wells across over 150,000 acres of brine leases. These brine samples, along with brine production volumes (barrels per day) and other geological data received from the Arkansas Oil and Gas Commission ("AOGC") will be used for an NI 43-101 lithium resource assessment that is anticipated in late Q3 2018.
Proprietary Process for Extracting Lithium from Brine in Hours Not Months
Standard Lithium (OTCQX:STLHF) (TSX.V:SLL) has developed proprietary processes for the extraction of high purity lithium directly from brines, including tail brine in hours not the months or years that lithium projects with conventional evaporation ponds face and with a much smaller environmental footprint. The agreement with LANXESS will also allow Standard to locate a demonstration scale extraction plant on one of LANXESS three operating production facilities. Saving Standard Lithium and its investors months if not years of project development time, and drastically reducing costly expenditures by leveraging the existing infrastructure.
Standard Lithium (OTCQX:STLHF) (TSX.V:SLL) Now Has Its Own Large Land Package On One of the Most Prospective Lithium Deposits
in the World
In January 2018, Standard Lithium entered an Option Agreement with NYSE-listed TETRA Technologies, to acquire the rights to conduct exploration, production and lithium extraction on 30,000 acres of brine leases located in an area of the Smackover Formation in southern Arkansas, known to be highly productive.
The 30,000-acre brine leases are a key development target that combines a very large resource potential, with well-studied and documented geology and hydrogeology, along with a permitting regime with a long history of approving operations that remove, process and re-inject massive volumes of brine.
Tetra Technologies, Inc. (NYSE:TTI), which is currently trading at $4.39 USD per share, is an established oil and gas company worth over USD $550 million. By securing the lease agreement with Tetra, Standard Lithium has locked down one of the last remaining large lease packages in this productive area.
The Smackover Formation is responsible for most of the 42.6 million cubic meters of brine produced in Arkansas each year.
While the region's brine is traditionally processed to recover bromine and other minerals, the Smackover formation is well recognized as a potentially enormous source of lithium. The region may not be a household name to many, but it has been referred to as a "world class lithium brine resource" by Albemarle, the world's largest lithium producer. According to Garrett's Lithium Handbook, the Smackover oilfield brine in Arkansas could contain 1 million metric tons of lithium – about a third of the reserves of the massive Atacama Salt Lake in Chile.
Leaders In the Lithium Industry
Robert Mintak, CEO
Led by co-founder and CEO, Robert Mintak, Standard Lithium (OTCQX:STLHF) (TSX.V:SLL) is guided by a trusted team of industry experts with a history of developing successful projects in the mining industry. Robert was one of the founders of Pure Energy Minerals and served as the company's CEO from 2013 to 2016 and most recently as Executive Chairman was recognized as the top mining company in the 2016 TSX Venture 50.
Andy Robinson, President & COO
Dr. Andy Robinson is known for compiling North America's first N.I. 43-101 compliant resource estimate for lithium brine and was responsible for developing a world-class lithium brine process engineering team at Pure Energy Minerals. This team successfully developed and tested efficient and effective modern brine processing techniques that will help shape the way in which lithium products are extracted from brine in the future.
The company's leadership group has a proven history of guiding projects through to the next stage of development, and investors have already begun to take notice.
Robert (Bob) Cross
Co-founder, Bob Cross is a mining legend and is one of the founders of Standard Lithium (OTCQX:STLHF) (TSX.V:SLL) . He's a well-known and respected name in the mining industry and brings years of experience and knowledge to the team.
Co-founder and currently Non-executive Chairman of B2Gold (TSX:BTO). Began trading at $0.30 and is currently trading at $3.21 at a market of CAD $3.23 billion
Resided as a Director for Athabasca Potash until it was acquired by BHP Billiton for $341 million
M&A Is Booming In The Lithium Space
Industry giants have begun to notice smaller players such as Standard Lithium (OTCQX:STLHF) (TSX.V:SLL) as well. Mergers and acquisitions are taking over the lithium industry, and junior companies are beginning to position themselves as attractive acquisition partners.
Just this year Lithium X was snapped up by Nextview New Energy Lion Hong Kong Ltd. in a $265-million deal. More recently, Chinese mining company Tianqi Lithium acquired a 24% stake in SQM, with the intention to inject over $500 million into the company's existing facilities. The move is expected to quadruple the amount of lithium carbonate SQM is capable of producing, indicating partnerships can be lucrative for all parties involved. As Standard Lithium advances toward production, competitors across the industry are sure to recognize the company's sterling reputation for rapid growth.
Could Standard Lithium (OTCQX:STLHF) (TSX.V:SLL) be the Next Mining Company to Break Out?
Let's recap the reasons why this could be possible.
The Recap:
5 Factors Working in Standard Lithium (OTCQX:STLHF) (TSX.V:SLL)'s Favor
1

Standard Lithium (OTCQX:STLHF) (TSX.V:SLL) now has access to one of the most extensive and best geographically located lithium deposits in the world.

The Company's flagship project in southern Arkansas, where it is engaged in the testing and proving of commercial viability of lithium extraction from 150,000+ acres of permitted brine operations and the resource development of 30,000+ acres of separate brine leases, both located in the productive Smackover Formation.

2

Quality infrastructure ready for production

. Partnerships with TETRA and LANXESS should accelerate development as

Standard Lithium (OTCQX:STLHF) (TSX.V:SLL)

is now able to leverage existing infrastructure and is located in a region recognized by Albemarle (the world's largest lithium producer) as a "world class resource" opportunity.

3

The company was recently named a Venture 50 Company. This is a prestigious honor that is based on three criteria that matter most to equity investors: market capitalization growth, share price appreciation and trading volume.

4

Experienced leadership. The company is led by an innovative and results-oriented management team that also has a strong focus on technical skills. The company's all-star management team includes Robert Mintak CEO, Director, a pioneer in the rapidly evolving lithium space; and Dr. Andy Robinson, President & COO, who lead the first Inferred Resource assessment for a lithium brine deposit in North America and while at a prior company, signed one of the only supply agreements for Tesla's gigafactory.

5

Permitted, operating producers reduces development timelines. The signed agreements with LANXESS and Tetra Technologies place the company in the enviable position of being able to leverage existing production infrastructure and to work inside permitted chemical processing facilities.
The Bottom Line …
Lithium demand is not going to go away. The critical metal's value lies in its ability to provide a high amount of energy in a lightweight package. There are no effective replacements on the horizon, which means companies like Standard Lithium (OTCQX:STLHF) (TSX.V:SLL) with domestic U.S. lithium mining projects will be sorely needed in the future.
Thanks to their valuable, strategic projects and the company's strong leadership team, Standard Lithium (OTCQX:STLHF) (TSX.V:SLL) seems uniquely positioned to excel in the rapidly evolving marketplace – and has many factors that point to it possibly being a breakout performer in the future.
---
---
Disclaimer:
This release/advertorial is a commercial advertisement and is for general information purposes only. This is a Native Advertisement, meaning it is an informational paid marketing piece. Wallstreetnation.com makes no recommendation that the securities of the companies profiled or discussed on this website should be purchased, sold or held by viewers that learn of the profiled companies through our website. Please review all investment decisions with a licensed investment advisor. This Advertorial was paid for a third party, Winning Media LLC in an effort to enhance public awareness of Standard Lithium. and its securities. Winning Media has or expects to receive twenty thousand dollars budget for Standard Lithium  for this advertising effort. Neither WallStreetNation nor Winning Media currently holds the securities of Standard Lithium. and does not currently intend to purchase such securities. This Advertorial contains forward-looking statements that involve risks and uncertainties. This Advertorial contains or incorporates by reference forward-looking statements, including certain information with respect to plans and strategies of the featured Company. As such, any statements contained herein or incorporated herein by reference that are not statements of historical fact may be deemed to be forward-looking statements. Without limiting the foregoing, the words "believe(s)" "anticipate(s)", "plan(s)" "expect(s)" "project(s)" "will" "make" "told" and similar expressions are intended to identify forward-looking statements. There are a number of important factors that could cau se actual events or actual results of the Company to differ materially from these indicated by such forward-looking statements. Certain statements contained herein constitute forward-looking statements within the meaning of Section 27A of the Securities Act of 1933 and 21E of the Exchange Act of 1934. Such statements include, without limitation, statements regarding business, financing, business trends, future operating revenues and expenses. There can be no assurance that such expectations will prove to be correct. Investors are cautioned that any forward-looking statements made by the Company, or contained in this advertorial are not guarantees of future performance, and that the Issuer's actual results may differ materially from those set forth in the forward-looking statements. Difference in results can be caused by various factors including, but not limited to, the Company's ability to be able to successfully complete planned funding agreements, to successfully market its products in competitive industries or to effectively implement its business plan or strategies. To reiterate, information presented in this advertorial contains "forward-looking statements". Any statements that express or involve discussions with respect to predictions, expectations, beliefs, plans, projections, objectives, goals, assumptions, or future events or performance are not statements of historical fact and may be "forward-looking statements." Forward-looking statements are based on expectations, estimates, and projections at the time the statements are made that involve a number of risks and uncertainties which could cause actual results or events to differ materially from those presently anticipated. Forward-looking statements in this advertorial may be identified through the use of words such as "expects," "will," "anticipates," "estimates," "believes," "may," or by statements indicating certain actions "may," "could," or "might" occur. More information on the Company may be found at
www.sec.gov
readers can review all public filings by the Company at the SEC's EDGAR page. Wallstreetnation.com is not a certified financial analyst or licensed in the securities industry in any manner. The information in this Advertorial is subjective opinion and may not be complete, accurate or current and was paid for, so this could create a conflict of interest.