Could NABUFIT's App become the Single Greatest Threat to the Multi-Billion Dollar Health and Fitness Industry?
If you did all of your Christmas Shopping through Amazon Prime (AMZN) while avoiding the mall; binge-watched The Walking Dead on Netflix (NFLX) after canceling Cable; booked an Uber ride in lieu of a taxi; or secured AIRBNB accommodations rather than stay in a hotel, then you are experiencing firsthand how technology – Specifically the Apps on your phone – are disrupting Billion dollar industries to create convenience and satisfaction while saving you money in the process.
dis•rupt
verb
: to cause (something) to be unable to continue in the normal way : to interrupt the normal progress or activity of (something)

In business, disruption refers to significant changes occurring within an industry, often at a fast pace—changes that redefine the norm, disturbing accepted ways of thinking and doing business. Digital technologies make this possible.

Fitness Fads Come and Go, but Technology Is Here to Stay

Several recent technological developments are disrupting the fitness industry, changing the way club operators approach their business and setting the stage for the Next Revolution. Mobile technology, fitness wearables and data, and "smart" equipment are all shaping the way health clubs and equipment manufacturers operate today.
The Digital Disruption of the Fitness Industry: NABUFIT is the Future and You Can't Run from It

You watch your favorite sports stars on television, but what if you could work out with them on your mobile device?
NABUFIT (OTC QB: NBFT) is a groundbreaking global online training and wellbeing portal that enhances your workout by providing expert advice from highly skilled workout specialists and current and former sports stars such as Neymar Jr., Peter Schmeichel and Michael Maze. The intention is to inspire and motivate you, to obtain a healthier and more active life.

The NABUFIT app gives you the opportunity to adjust your training to your own fitness- and skill level! With this user friendly app, you can bring your fitness to the next level by a simple swipe – PROGRESSION MADE SIMPLE!  an online portal/mobile app that offers customizable, streaming video workouts with world famous athletes, nutrition and workout plans, integration with and aggregation of information from wearable health devices, and an online community with interaction from mentors, friends, and experts.

The key ingredient in NBFT's go-to-market strategy vs their counterparts is the use of celebrities and their role as influencers. Some highly prominent sports stars have already agreed to be part of NABUFIT. Their involvement not only makes NABUFIT one of the most unique health – and fitness apps in the world, but also make a valuable contribution in the marketing and roll-out of NABUFIT.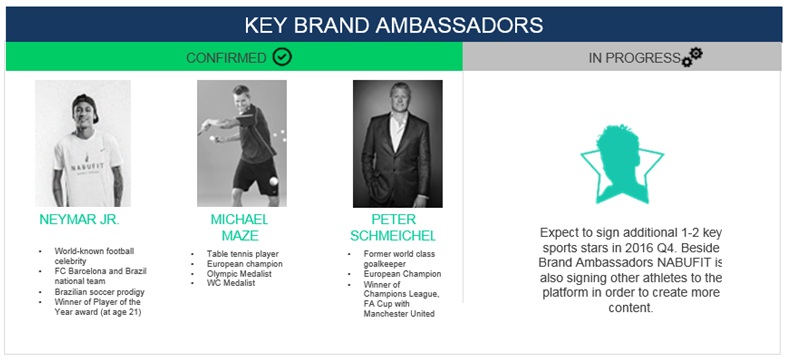 The vision is to recruit significant athletes from each sport category, across the world.
Customers obtain access to the Product portal through the purchase of monthly or annual memberships and the downloading of the software or mobile device application. The app provides custom designed training plans, diet plans and access to mentors and coaching.
Choose your own personal portable gym!
Using Microsoft Kinect® technology, the NABUFIT app collects data and measures each exercise.  Based on the info, the user will receive immediate feedback, e.g. as a percentage, a graphic or an emoticon depending on how well the exercise has been performed.
This provides quality assurance guaranteeing maximum effect of the training. The feedback also reduces the risk of injury while maximizing time spent on training. Users can access training data, statistics and results online or through mobile device applications.
Choose your own personal trainer without leaving your house!


Global fascination with healthy living has bred a new industry with many profitable companies. From Lululemon to Planet Fitness, the shift to improving personal health is also benefiting investor's bank accounts.
Individuals and employers are increasingly focused on health and fitness.A variety of factors, such as changing consumer lifestyles and demographics, combined with rising healthcare costs and employers' increased emphasis on productivity, are leading individuals and employers to increasingly focus on health and fitness. Based on information from industry sources, its estimated consumers spent over $200 billion in 2014 on health and fitness services, such as gym and health club memberships, commercial weight management services, and consumer health products, such as weight management products and dietary supplements. In addition, IBISWorld estimates that the corporate wellness industry will grow from $7.2 billion in 2015 to $9.9 billion in 2019 in the United States.
Advances in technology have enabled the emergence of virtual training and fitness products.Recent advances in streamlining video, monitoring sensors, high-speed broadband internet, the introduction of wireless standards such as Bluetooth low energy, and other technologies have enabled the emergence of virtual training and fitness programs that may be used by consumers within the confines of their own homes with the ability to receive real-time feedback based upon monitoring devices and applications which track biometric data, and fit a wide range of consumer preferences.
Mobile devices have become the preferred platform for accessing information.Mobile devices have become the preferred platform for people to access information and manage their lives, as well as the primary hub to connect a variety of consumer devices. According to Gartner, by 2018 more than 50% of users will go to a tablet or smartphone first for all online activities.
More individuals are turning to technology solutions to improve health and fitness. Individuals are increasingly using mobile apps and other software to improve health and fitness, allowing consumers to directly manage and track their health and fitness in unprecedented ways. According to The NPD Group, over 25% of U.S. consumers reported using a fitness app on their smartphone.
NABUFIT is uniquely positioned to leverage these trends with its product offering. The precedent has been set by leaders in other industries who have dominated their space without having to invest in the infrastructure that drives the space.
When compared to the competition, NBFT's app is already on par with Chinese fitness app "KEEP".
Keep is one of the largest Chinese players in the market with more than 30 million users. The app is the second most downloaded health and fitness iOS app in China, according to tracking website App Annie. The industry is so appealing that Social and Gaming Giant Tencent has invested an undisclosed amount in Keep.




In terms of usability, functionality and user experience – NABUFIT is a superior product ready to take on all Target Markets.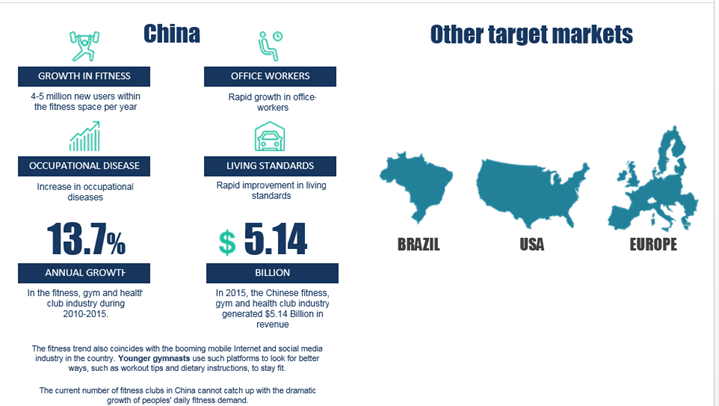 NBFT's Market Opportunity
Health & Fitness – $200 billion: As the platform is developed and consumers create the health and fitness lifestyle they crave, there is an opportunity to reach a significant portion of the expanding global market. Industry sources estimate the market to be worth over $200 billion.

Wearables – $45 billion: According to International Data Corporation, the wearable devices market is growing faster than any other segment of the global consumer electronics market.   IDC expects the market for wearable devices will surpass 200 million units shipped in 2019, representing a $44.7 billion worldwide revenue opportunity.  Nabufit is perfectly positioned to take advantage of this expanding market.

Health Metrics on Mobile Platforms – $100's of millions: The method used for tracking health related metrics such as weight, heart rate, blood pressure, physical activity, calorie intake and sleep is changing drastically. Traditionally, individuals tracked these metrics in their head or on paper. Smartphones and wearables have the ability to track and store this information automatically and are thus driving a rapid shift toward digital tracking. With companies such as Apple, Microsoft, Under Armour, Fitbit and many others pouring R&D dollars and making acquisitions for hundreds of millions of dollars, this space is set for exponential growth. NABUFIT's entry and efforts to gain significant market share in the Digital Health & Fitness area is well timed.
NBFT's Global Economy
NBFT has engaged a long term co-operation agreement with LX sports in Brazil, which is an online Social Media agency and PR firm – also Neymar's agent. LX Sports will be responsible for online marketing and Social Media in Brazil with a population of more than 200 million.
NBFT is in negotiation with Chinese partners for extensive marketing programs and an on-site local capital partner.
NBFT's internal marketing department runs CPI/CPA/SEM/ASO and other online campaigns to drive traffic and users to the app. Additionally, the company has great focus on PR and IR in relation to the companies sport stars and growth.
NBFT's brand ambassadors have agreed to market the app on their online social media accounts (Facebook, Instagram and Twitter among others) while contractually posting/advertising monthly.
Despite well-known names allocating enormous resources, there has yet to be a king crowned in this space. NBFT's concept is powerful and unique in its completeness of vision and use of cutting edge technology, and is therefore well positioned to play a dominant role in the Digital Health & Fitness space.
Since going public NBFT is still relatively unknown to Wall Street