Will this Nasdaq Stock Score Big in
$82 Billion

Apparel market?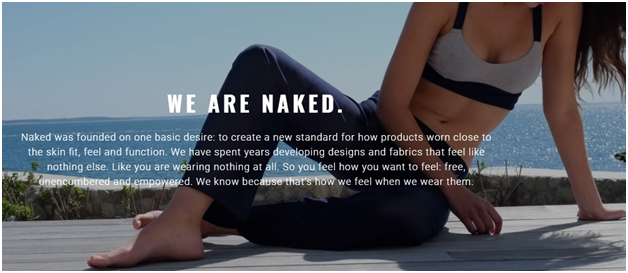 NAKD

is a clothing company that has spent years developing designs and fabrics that feel like nothing else.
Like you are wearing nothing at all. So you feel how you want to feel: free, unencumbered and empowered.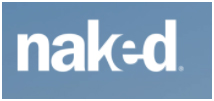 Could NAKD be the next True Religion?
Naked Brand Group Inc. (NASDAQ:NAKD) is an apparel and Lifestyle Company which focuses on intimate innerwear products which appeal to both men and women.
NAKD specializes in men's and women's underwear, loungewear and sleepwear under the company's Naked brand name.
The global intimate apparel market is worth as much as $82 billion and is expected to reach $250 Billion Globally by 2022.
Changing lifestyle, rising awareness regarding hygiene, changing demographic dividend, and customization of product portfolios have boosted the intimate wear market – and NAKED is right on top of things.
NAKD has become an established name for its innovative and luxurious inner wear products in some of the leading online and department stores across the US:
Nordstrom
Bloomingdale's
Dillard's
Soma
Saks Fifth Avenue
Amazon
BareNecessities.com
As a result, we are seeing sequential growth in the company. They recently reported a net sales increase of 32.6% to $1.8 million.
NAKED BRAND GROUP is fast becoming a Global Lifestyle Brand.
NAKD has already been getting lots of attention and has been prominently displayed in Men's Health, Esquire, EOnline and the Examiner.
In Fact, Sony Pictures ordered 75 pairs of Naked's Micro Modal Boxer Briefs for Andrew Garfield to wear during production on The Amazing Spider-Man 2!
The allowed the web-slinging superhero to effortlessly swing between New York's skyscrapers without losing his poise, worrying about disfigured curves, and thinking about discomfort especially while acting against a green screen.
NAKED is a Slam Dunk for Success!
In June 2015, NAKD announced a strategic partnership with NBA star and future Hall-Of-Famer Dwayne Wade.
Perhaps you remember another NBA star by the name of Michael Jordan? If you're old enough, you remember the Hanes Underwear commercials which catapulted Hanes into a Monster Brand almost overnight.
Naked Brands is already capitalizing on Wade's Star Power.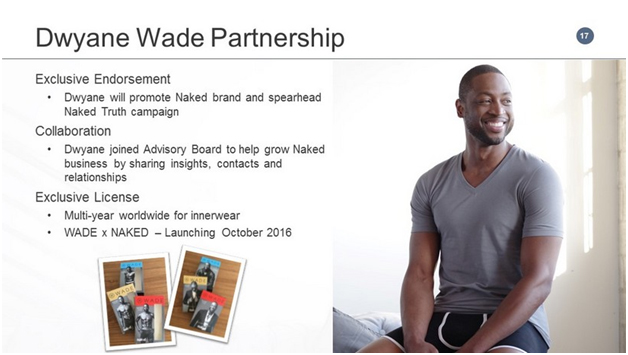 The 3-time NBA Champion, 11-time All Star, and Olympic Gold Medalist joined Naked's Advisory Board, and is the Creative Director for a signature collection of men's innerwear which launched in 2016.
Women dominated the intimate wear market in 2015, accounting for around 59% of the overall market revenue owing to women's aspiration to stay in line with fashion trends and habit of spending more on intimate wear as compared to men. Intimate wear for men is expected to be faster growing segment during the forecast period.
NAKD is even finalizing a Merger Agreement with Bendon Limited – a global leader in intimate apparel and swimwear
WE BELIEVE THAT THIS MERGER IS STRUCTURED TO BENEFIT OUR
SHAREHOLDERS AS WELL AS THE GO-FORWARD BUSINESS
~Carole Hochman, Naked's Chief Executive Officer and Chief Creative Officer,
This is a win-win for both companies. It will enable Naked Brands to utilize Bendon's strength and management expertise as well as the companies established wholesale and retail distribution channels worldwide, to deliver value for shareholders, Bendon has a 70 year history in the industry.
Bendon's brands are distributed globally through over 4,000 doors across 43 countries, as well as through a growing network of 60 company-owned Bendon retail and outlet stores in Australia, New Zealand and Ireland.
Bendon's global supply chain is one of its strongest assets, controlling sourcing, manufacturing and production at over 30 partner facilities across Asia. Bendon has more than 700 staff at offices and stores in Auckland, Sydney, New York, London and Hong Kong and is poised for continued meaningful growth as it opens additional retail stores and expands its current portfolio of products.
Could this merger follow the same path as True Religion, Michael Kors, or Lululemom and become a key player in the market?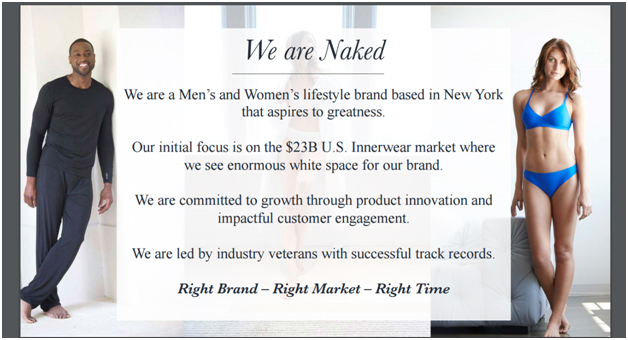 Start your research at http://www.nakedbrands.com/
and https://www.wearnaked.com/
NAKD must be immediately added to your watchlist. This company – and stock price – is going places!