Elon Musk's Worst Nightmare:
No cobalt, no Tesla?
Cobalt Demand Surges as Tesla Begins Model 3 Battery Production
Sounds wonderful, right?  Wrong.  Securing a consistent lithium supply is no longer Tesla's biggest dilemma.  The greatest obstacle to mass production of the Lithium-ion battery is the ever increasing need for Cobalt – and the lack of suitable locations to obtain it.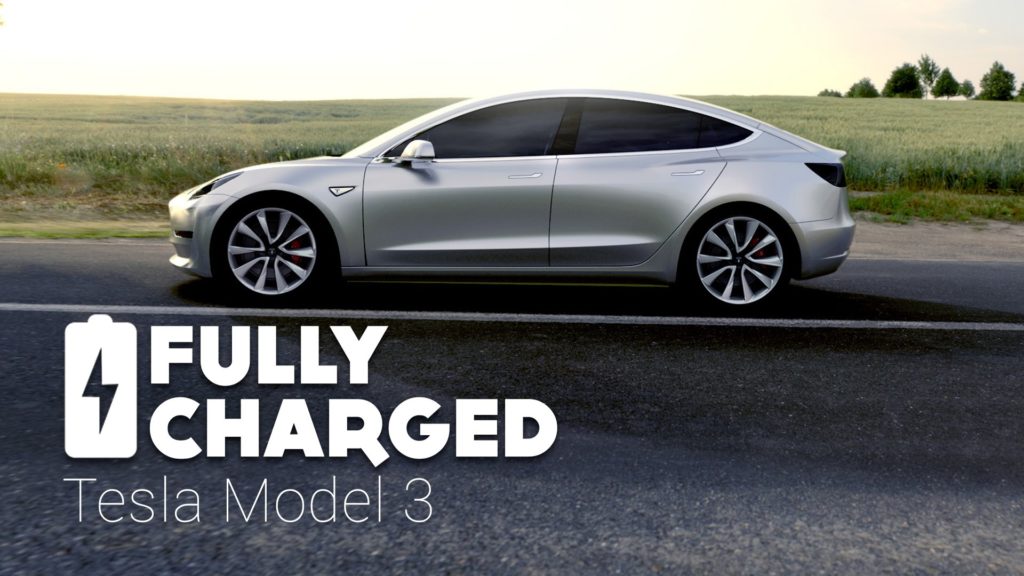 Less than three years ago, Elon Musk shocked the world by announcing they would only use raw materials sourced in North America for their battery plant. The vast majority of the world's cobalt reserves are situated in one of the least desirable locations on the planet: the Democratic Republic of the Congo. Exploitation of children, inhumane working conditions, Death and Injuries, the list goes on and on.  Tesla has tried to separate themselves from DRC and this PR nightmare.
However, roughly half of the world's cobalt supply will be used for batteries in 2020.
Global demand is skyrocketing and supply is a finite amount, and only found in select locations.  In fact, Analysts at Macquarie Research expect deficits of 885 tonnes next year, 3,205 in 2019 and 5,340 in 2020.
"If last year was lithium's time, for 2017 cobalt may be the one receiving more attention."
~Colin Hamilton, Global Head of Commodities Research, Macquarie Group.
This is a HUGE win-win situation for savvy investors who are seeking domestic cobalt companies which fit all of Musk's mandated criteria.  And we may have just found the perfect Goldmine…or the Cobalt mine if you will.
US Cobalt Inc. (TSX: USCO; OTC: SCTFF) Is Perfectly Positioned to Establish itself as North America's Next Major Cobalt Producer….and potentially help out all Lithium-Ion battery manufacturers
Little-known exploration company – US Cobalt Inc. (TSX: USCO; OTC: SCTFF) – is an exploration company focused on the acquisition and development of production-grade cobalt deposits, and is mining in North America.
US Cobalt, Inc. was formed out of necessity.  The cobalt supply chains of brands such as Apple, Tesla, GM and Microsoft are being closely scrutinized. As the majority of the world's cobalt is still being mined in the Democratic Republic of the Congo – their deplorable record on human rights and labor practices is resonating with the major corporations around the world.
US Cobalt Inc. (TSX: USCO; OTC: SCTFF) is well-positioned to provide a solution to this dilemma. There is no question that President Trump and his administration are strongly in favor of developing American solutions to this precise issue – and investors will be looking to support that critical development.
President Trump is taking on African War Lords and looking for companies to avoid the DRC while focusing on domestic products. As you can watch in the following video – the White House is taking a stand!
On July 3rd, 2017 – Elon Musk tweeted that deliveries of the Model 3 will begin by the end of the week.  This news alone substantiates the unprecedented demand for Cobalt.  Lithium-ion batteries contain about 11 kilograms of cobalt, and demand for the metal is expected to jump from 46,000 tonnes in 2016 to 76,000 tonnes by 2020. But it doesn't stop with just Tesla.  Volkswagen AG and Ford Motor Co. are among automakers investing in electric vehicles and the whole market could be worth $244 billion by 2025, Goldman Sachs Group Inc. said in a late 2015 report.
Rising cobalt demand and flat supply in the 100,000 metric-tons-a-year market opened a 1,500 ton deficit in 2016 that could triple this year, according to CRU Group.
That surge in price is just the beginning – as this rare metal is an essential piece of the massive global shift toward electric vehicles.
Where will they find additional Cobalt?
US Cobalt Inc. (TSX: USCO; OTC: SCTFF) has three mining projects underway.
IRON CREEK COBALT PROPERTY, LEMHI COUNTY, IDAHO
The Iron Creek Cobalt Property is located in Lemhi County, Idaho, along the most prolific trend of cobalt mineralization in the USA, the Idaho Cobalt Belt. The property benefits from a substantial amount of historical exploratory work, including approximately 30,000 feet of diamond drilling, and the mining of 1,500 feet of underground workings.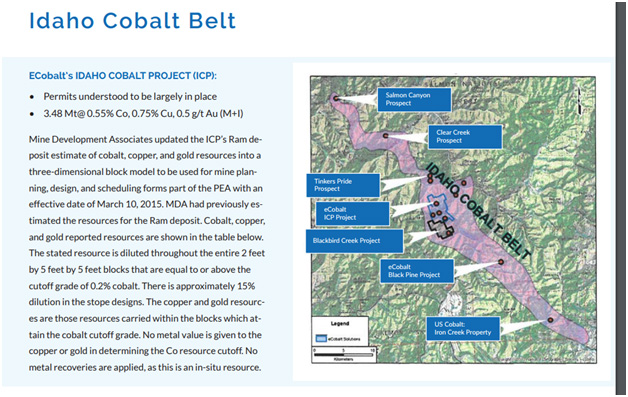 US Cobalt Inc. (TSX: USCO; OTC: SCTFF) recently announced that drilling has commenced.  This drilling campaign is designed to confirm the historic cobalt mineralization and to explore for extensions. As previously announced, previous tonnage and grade estimates indicate that the Property contains 1,279,000 tons grading 0.59% cobalt.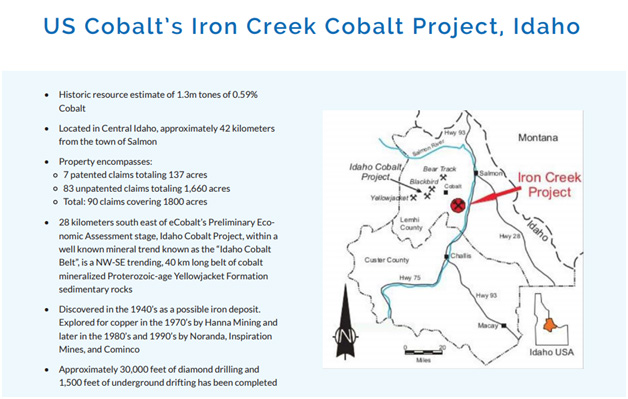 PARADOX BASIN LITHIUM BRINE PROPERTY
The Paradox Property consists of 111 mineral claims covering approximately 2,220 acres that contain eight historic oil and gas drill holes. The Paradox Property exists over an area with historic fluid analysis ranging from 81 to 1,700 ppm lithium in saturated minerals brines.  The brine was discovered in the 1960s when over pressurized oil exploration wells encountered blowouts upon drilling.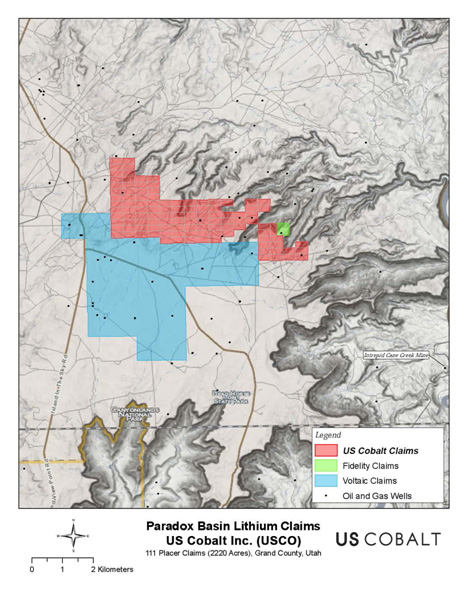 The Paradox Basin area is a semi-desert region with an average of over 300 days of sunshine per year, existing infrastructure, and year-round access to road and rail.
Approximately eight wells have been drilled on the Paradox Property with approximately 25 historic wells in the immediate area. Of these 25 historic wells, five near the Paradox Property have analytical data for lithium and are concurrent with a zone determined by the USGS to contain greater than 40% total dissolved solids in oil field brines. Lithium occurs at the basin in oversaturated mineral brine (40 per cent minerals, 60 per cent water).
DEEP VALLEY LITHIUM PROPERTY
The Deep Valley Lithium Property is located in the Fox Creek – Sturgeon Lake area of west-central Alberta. The Property is known to be highly enriched in lithium, potassium, boron, bromine and other commodities.
Within the central part of the Property, historic samples of formation waters (brines) have returned 140 mg/L (ppm), which are amongst the highest values recorded within the Province of Alberta.
Almost all cobalt is produced as a by-product at nickel and copper mines and "in terms of new projects, a higher cobalt price certainly makes some" planned multi-metal developments more viable, said Macquarie Group Ltd.'s head of commodities research Colin Hamilton.
What's needed for a project of this undertaking would be one of the most respected men in the mining world.
Wayne Tisdale is responsible for creating $2.7 Billion worth of business between his last 5 mining companies.  His latest big bet is in Cobalt.  And he's specifically undertaking this project as the CEO of US Cobalt Inc. (TSX: USCO; OTC: SCTFF).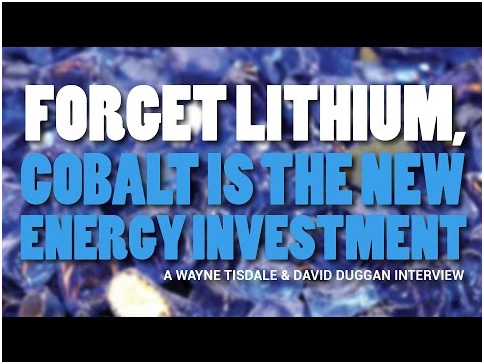 Lithium Stock plays have Become Saturated.  Cobalt is ready for the "parabolic move upward."  As the US had previously stepped out of Cobalt Mining for nearly 3 decades, Wayne Tisdale and US Cobalt Inc. (TSX: USCO; OTC: SCTFF) are ready to lead the charge.
Experts Agree: Cobalt Prices Should
Continue to Soar in 2017 and Beyond
"In the next few years only five new cobalt mines are due to come online, and they will add about 50,000 tons of cobalt per year. That is certainly not enough to support the demand in the market," Stephan Bogner of Rockstone Research said at this year's International Metal Writers Conference.
CNBC recently reported: "Demand for cobalt has soared in the past year as investors expect inexorable growth in the global electric vehicle industry to generate a supply squeeze this year."
According to the Financial Times, now is the time for "investors to ride the cobalt price wave."
This may be a once-in-a-lifetime opportunity to get in on the ground floor of one of the greatest investment opportunities of our generation.
US Cobalt Inc. (TSX: USCO; OTC: SCTFF) is giving early-bird investors an unprecedented profit potential – as this is just the beginning.
What we have here is the Holy Trinity of Investing.  Three separate highly motivating reasons to invest now.
What we have here is the Holy Trinity of Investing. Three separate highly motivating reasons to invest now.
1.

Invest in America: A tremendous, and rapidly increasing, demand for Cobalt mined in North America. US Cobalt, Inc. owns mines in some of our own backyards.

2.

Invest in the Best: Wayne Tisdale – CEO of US Cobalt has a 40 year resume in investing, financing, and consulting, both private and public companies, in the areas of mining, oil, and gas. There is no one better in the field to lead this exploration.

3.

Invest Before Wall Street: An undiscovered, relatively unknown (for now) stock which is ready to deliver
Disclaimer:
This release/advertorial is a commercial advertisement and is for general information purposes only. This is a Native Advertisement, meaning it is an informational paid marketing piece. Wallstreetnation.com makes no recommendation that the securities of the companies profiled or discussed on this website should be purchased, sold or held by viewers that learn of the profiled companies through our website. Please review all investment decisions with a licensed investment advisor. This Advertorial was paid for a third party, World Wide Holdings LLC in an effort to enhance public awareness of US Cobalt Inc. and its securities. World Wide Holdings has or expects to receive fifty thousand dollars by the issuer, US Cobalt Inc. for this advertising effort. Neither WallStreetNation nor World Wide Holdings LLC currently holds the securities of US Cobalt Inc. and does not currently intend to purchase such securities. This Advertorial contains forward-looking statements that involve risks and uncertainties. This Advertorial contains or incorporates by reference forward-looking statements, including certain information with respect to plans and strategies of the featured Company. As such, any statements contained herein or incorporated herein by reference that are not statements of historical fact may be deemed to be forward-looking statements. Without limiting the foregoing, the words "believe(s)" "anticipate(s)", "plan(s)" "expect(s)" "project(s)" "will" "make" "told" and similar expressions are intended to identify forward-looking statements. There are a number of important factors that could cau se actual events or actual results of the Company to differ materially from these indicated by such forward-looking statements. Certain statements contained herein constitute forward-looking statements within the meaning of Section 27A of the Securities Act of 1933 and 21E of the Exchange Act of 1934. Such statements include, without limitation, statements regarding business, financing, business trends, future operating revenues and expenses. There can be no assurance that such expectations will prove to be correct. Investors are cautioned that any forward-looking statements made by the Company, or contained in this advertorial are not guarantees of future performance, and that the Issuer's actual results may differ materially from those set forth in the forward-looking statements. Difference in results can be caused by various factors including, but not limited to, the Company's ability to be able to successfully complete planned funding agreements, to successfully market its products in competitive industries or to effectively implement its business plan or strategies. To reiterate, information presented in this advertorial contains "forward-looking statements". Any statements that express or involve discussions with respect to predictions, expectations, beliefs, plans, projections, objectives, goals, assumptions, or future events or performance are not statements of historical fact and may be "forward-looking statements." Forward-looking statements are based on expectations, estimates, and projections at the time the statements are made that involve a number of risks and uncertainties which could cause actual results or events to differ materially from those presently anticipated. Forward-looking statements in this advertorial may be identified through the use of words such as "expects," "will," "anticipates," "estimates," "believes," "may," or by statements indicating certain actions "may," "could," or "might" occur. More information on the Company may be found at
www.sec.gov
readers can review all public filings by the Company at the SEC's EDGAR page. Wallstreetnation.com is not a certified financial analyst or licensed in the securities industry in any manner. The information in this Advertorial is subjective opinion and may not be complete, accurate or current and was paid for, so this could create a conflict of interest.